PCCW in Hong Kong, currently the largest IPTV operator in the world, is to move to advanced MPEG-4 encoding across its entire now TV channel lineup. It will employ standard definition encoders from Harmonic to enable it to extend its services to reach nearly all households in Hong Kong over broadband.
The now TV broadband video service, launched in 2003 using MPEG-2 encoding, has more than 700,000 subscribers and is offering increasing competition to the incumbent cable television provider.
The addition of new channels and transition to video-on-demand services are driving PCCW to implement the more efficient MPEG-4 AVC H.264 compression system which can support more bandwidth-intensive services and deliver multiple streams to more than one television set in the home. It will also enable the operator to increase significantly the number of subscribers that can access the service over the broadband telephone network in comparison to MPEG-2.
"As we continue to expand our now TV service and offer more programming, video-on-demand and interactive gaming, our video network must be flexible, scalable and more efficient," said Dominic Leung, managing director of television and content at PCCW. "Harmonic's high performance video headend solutions make it possible to better utilize the available bandwidth for these new services, opening up new revenue opportunities and enabling PCCW to provide a more compelling service to our subscribers."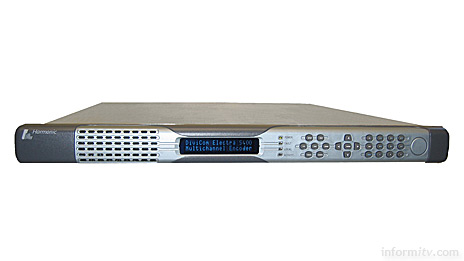 PCCW is deploying Harmonic DiviCom Electra 5400 encoders which support up to four channels of simultaneous encoding in a compact one rack-unit device. The encoders are also capable of simultaneously delivering low resolution channels for new applications such as picture-in-picture and dynamic video mosaics. The recent implementation at PCCW also includes the Harmonic NMX Digital Service Manager for automated management of service operations and scheduling.
Back in November 2005, as reported on informitv at the time, PCCW announced that it had chosen systems from rival encoding equipment company Tandberg for a world-first roll-out of high definition broadband video services. PCCW had previously been using Tandberg MPEG-2 encoders for its premium standard definition channels.