Apple has launched an Apple TV box, which promises to do for the television what the iPod did for music. This was somewhat overshadowed by the eagerly anticipated announcement of an Apple iPhone, which virtually reinvents the telephone as an integrated mobile phone, music and video player, with a built-in web browser.

The Apple TV was previously dubbed the iTV, although Steve Jobs, the Apple chief executive, repeatedly referred to it by its former codename as he introduced the product in his keynote presentation at Macworld in San Francisco.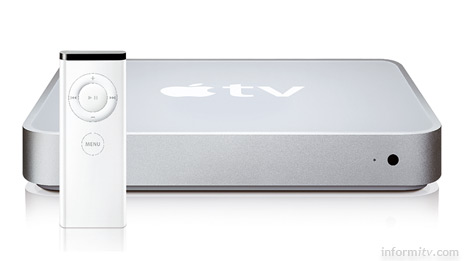 The diminutive Apple TV box connects to a television and allows wireless access to material available on a personal computer or the internet. It enables anyone to browse and view their entire collection of digital media from across the room using a simple and intuitive remote control and on-screen interface. It is also seamlessly integrated with Apple iTunes, enabling selected movies and television shows to be streamed directly over the internet.
The Apple box features a high-definition HDMI output, although this only goes as high as 720p lines, as well as component video and analogue and digital audio.
The power supply is internal, so it can be connected directly to a wall socket without requiring an external transformer, but it does not provide powerline networking. It does however offer an Ethernet port and WiFi networking, including the new draft n standard.
It includes a 40GB hard drive, which is rather too small but no doubt larger versions will follow. It also has an Intel processor, which provides the power for the striking user interface.
The beautiful interface is simply white on black, but is otherwise reminiscent of an iPod, and is typically elegant, sophisticated and simple, with zooming animations.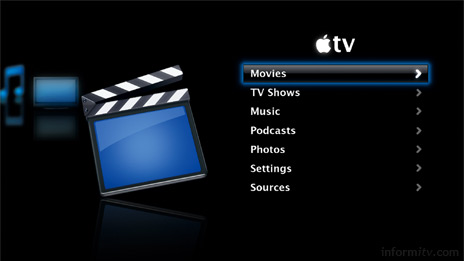 Apple TV offers access to movies, television shows, music and podcasts through iTunes. It can automatically synchronise material from a designated personal computer on the network and stream from up to five computers. This can include visitors, who can connect their machines wirelessly simply by entering a personal identification code number displayed on the television screen.
Photos can also be easily displayed on a large widescreen display. As Steve Jobs noted, modern digital cameras as are all essentially better than high definition. The display will be limited to 1280×720 resolution, which is less than one million pixels, but it is possible to pan and zoom over images in smooth slideshows.
"We think this is pretty cool," said Steve Jobs. "I'm really excited by it. We think this is going to be something really quite special."
The Apple TV will be priced at $299 and will begin shipping in February. While there are many devices that promise to connect the television to a computer network, media centers and similar products have yet to really take off, largely because they are too complex to set up and too difficult to use. Apple could dominate the category with its characteristic consumer appeal and ease of use.
In the long term, devices such as this could begin to bypass cable television operators, with their proprietary set-top boxes, opening up the television to programming that could come from anywhere.
Apple is well placed to enter this market. In addition to two billion songs sold so far on iTunes, it has already sold 50 million television shows and over a million movies.
iPhone
The real excitement, however, was reserved for the long-anticipated announcement of an integrated mobile phone and music player.
"Today Apple is going to reinvent the phone and here it is," said Steve Jobs, showing an image of an iPod with a rotary dial. He was, of course, only kidding.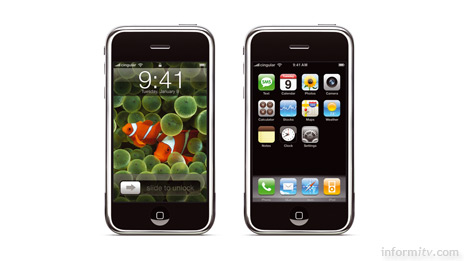 The Apple iPhone is undoubtedly a breakthrough device, combining a revolutionary touch screen mobile phone with a music and video player and internet communications. Apple claims that it is five years ahead of anything else on the market and indeed it looks very futuristic.
Apple has developed and patented a gestural touchscreen interface it calls multitouch, which does away with the need for buttons or a special stylus. It scrolls though lists with simple intuitive gestures, rather like a touchpad.
The touchscreen automatically switches off when you bring it to your ear. The 3.5 inch widescreen display automatically detects whether it is in portrait or landscape orientation and it can show true widescreen movies either zoomed full screen or with borders top and bottom. An ambient light sensor adjusts the image to save power.
Apple has taken its usual innovative approach to user interface design to understand how people actually want to use mobile phones, to create an enjoyable user experience.
The phone itself is a quad-band GSM and EDGE device–Apple plans to make 3G phones in the future–and comes complete with WiFi and Bluetooth.
The iPhone runs the OS X operating system and features desktop class applications, including a special version of the Apple Safari web browser which allows full web pages to be displayed and navigated.
Apple is teaming up with Google to offer search and mapping and with Yahoo! to offer free push email, to compete with devices such as the Blackberry.
Steve Jobs was joined on stage by Eric Schmit, the chief executive of Google, who also joins the Apple board, and by Jerry Yang, the co-founder of Yahoo!
The iPhone will be available in the United States from June with Cingular as an exclusive partner and a list price of $499 for a 4GB model and $599 for an 8GB version. It will be available in Europe from the last quarter of 2007 and in Asia the following year.
Apple is aiming to attract a 1% share in 2008–around 10 million units–although it may be expected to exceed that figure.
The iPhone is definitely desirable, but it introduces a number of technical innovations which are not without risk. If it succeeds, it could indeed redefine our view of the mobile phone.
Steve Jobs was evidently excited at his keynote presentation. He said he had been waiting two and a half years for this day and said he had not slept a wink the night before. He compared the launch of the iPhone in importance to that of the iPod in 2001 and the original Mac computer in 1984.
It could be even more significant. With around a billion mobile phones sold last year, the market considerably overshadows that of personal computers, portable music players and games consoles combined.
As a sign of convergence and its emergence as a media and consumer electronics brand, the company is even dropping the word computer from its name, to become simply Apple Inc.