Verizon is adding interactive features to its FiOS TV fibre-optic broadband television service. Local weather and traffic news may not be the cutting edge of interactive television, but they represent a start.
Initially available in Texas, the so-called 'TV widgets' provide access to real-time local weather and traffic information based on the customer's zip code, which they have to enter when they first access the service. The zip code can also be changed to view information from across the country.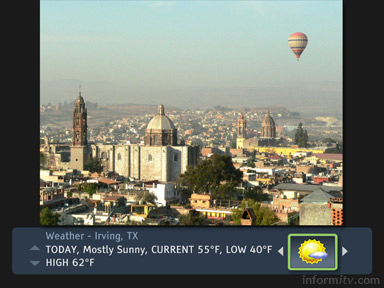 Verizon says future Widgets may include personalized news, sports scores and fantasy-league sports results or community information.
"With our new applications like Widgets, customers can better personalize and control their TV viewing," said Marilyn O'Connell, responsible for video solutions at Verizon. "These services also differentiate FiOS TV in the marketplace by showcasing Verizon innovation and our platform's unique capabilities."
"Customers increasingly want to share information, photos, music and videos across a home network," she continued. "Our FiOS TV platform will make this all possible. In the coming months, you'll see us add new features to FiOS TV that will make it easy for customers to enjoy a true multimedia experience."
Later this year, Verizon will add a multi-room digital video recorder and a feature that allows customers to access PC-based photos and music on their televisions.
Verizon FiOS TV is currently delivered over a fibre-to-the-premises network to more than 50 communities in seven states: California, Florida, Maryland, Massachusetts, New York, Virginia and Texas, with more being added.