Cox Communications, the third-largest cable provider in the United States, is the first operator to license a new interactive television software suite from Ensequence. The on-Q Publish software enables advertisers, programmers and operators to update and publish interactive applications on cable and satellite television.
A web interface enables non-technical production staff to update and maintain existing interactive TV applications without needing to know about the technology, deployment details or broadcast environment.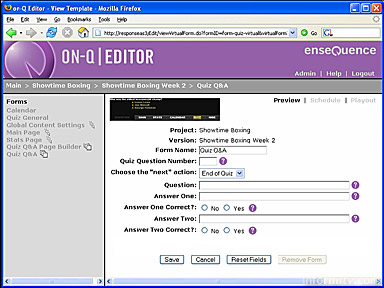 Previous Ensequence tools have concentrated on providing a graphic integrated development environment for the creation of interactive television applications. The new web-based interface will allow editorial staff to make changes to the content of existing applications.
Ensequence says this enables everything from simple content changes to full application re-skinning. Template applications can be re-used across multiple programming and advertising genres, and national campaigns can be customized with information on local retailers.
The on-Q Publish suite is fully integrated with the Ensequence on-Q Air and on-Q Ready software suites, enabling live applications to be updated with dynamic data.
The deal with Cox represents the first agreement for Ensequence to support the OpenCable Application Platform, OCAP.
Ensequence on-Q software will create applications compliant with the OCAP specification from CableLabs and, when fully developed, the new CableLabs OpenCable Enhanced Television Binary Interchange Format standard. Cox will be able to run applications created with on-Q software on its OnRamp and OCAP middleware platforms using TVWorks Application System products and technology.
"As we work to realize the possibilities and promise of interactive television, we're confident that Ensequence is the right vendor to help us accomplish our goals," said Vince Groff, director of iTV product development for Cox Communications.
"Ensequence's support for CableLabs ETV and OCAP cable standards, their ability to provide our programming partners with tools to develop dynamic new interactive TV experiences and their expertise in interactive TV technology and deployment were key in our decision."
Ensequence competes with other interactive television tools vendors, such as Emuse Technologies. The addition of web-based editing tools also takes it into territory that has been largely occupied by Tamblin in the United Kingdom or Zetools in the United States.