AOL and Warner Bros have launched In2TV, promoted as the first broadband television network. It claims to offer the largest collection of free television shows on the web, featuring classic episodes from their archives in genre-themed channels, together with viral videos and interactive games.
As reported by informitv, In2TV was first announced in November 2005. It combines streaming and peer-to-peer download distribution, with some episodes available in a download format AOL has dubbed Hi-Q, which promises DVD-quality full-screen playback.
"In2TV breaks new ground as the first true broadband television network," said Kevin Conroy, of AOL Media Networks. "In2TV is another important milestone in the evolution of video on the Web".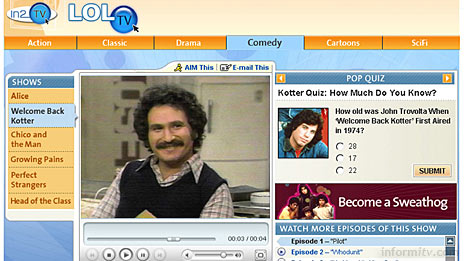 The co-operation between AOL and Warner Bros, both Time Warner companies, reflects the synergies that were originally expected out of the AOL Time Warner merger in 2000. However, it appears to combine the presentational qualities of the web with the depth of content of cable television, rather than the reverse.
The free streaming service is advertiser supported, with 15 and 30-second spots, limited to a total of 1-2 minutes per half-hour episode, and initially four main advertisers. The proposition is expected to expand to include paid download and subscription services.
The peer-to-peer download mechanism is based on grid distribution technology from Kontiki, which AOL describes as a Relay Network. This links the machines of users that install the AOL Hi-Q Video plug-in, enabling videos to be delivered from groups of other users on the network rather than relying on a remote server.
As AOL puts it: "Kontiki's Relay Network uses computer resources of participants to deliver high quality video more quickly. Videos may be delivered to other participants from your hard drive, and videos you receive will often come from the hard drives of other participants."
Windows Media digital rights management is used and the system requirements include Windows XP and Windows Media Player 10. Programming is currently only available to users in the United States.
"In2TV begins to realize the true potential of Web-based TV by putting the viewer in charge of their own TV schedule online," said Kevin Tsujihara, president of Warner Bros. Home Entertainment Group. "This opens up new opportunities for platforms and program distributors alike and points to the prospect of exciting new paradigms in online and interactive entertainment soon to come."
Beyond the arrangement with Warner Bros, AOL hopes to add programming from other providers in the future. The current line up could at best be described as classic American television programmes from the past.
"We're proud to team with AOL on this first-of-its-kind broadband network," said Eric Frankel, president of Warner Bros Domestic Cable Distribution. "In the near future we will be adding more recent programs and other TV related content from our studio and other producers that you can't find anywhere else on the Web."