The IPTV World Forum in London attracted an international audience of 1,500 industry professionals over three days, reflecting the significant growth in interest in internet protocol television, although opinion appears divided over what this will actually mean for the consumer.
Delegates were queuing to enter the conference, which featured an associated exhibition that was also busy throughout. The growth of this event since last year, which sold out with an attendance of around 300, is indicative of the increased interest in internet protocol television, despite a number of other conferences concentrating on the topic.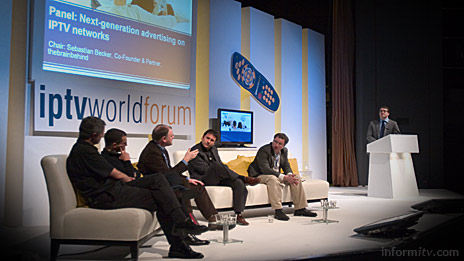 Chris Coles of Myrio, now part of Siemens, kicked off with a message to prospective service providers to recognise that they are getting into the media business. He said that while video might be seen as the killer application, what was required was a "killer cocktail" of services.
Analysts from Strategy Analytics and Ovum talked about the size of the market, concluding that Europe will make up the majority of IPTV deployments over the next few years, although there will be differences by country according to local conditions. Tom McKeever of Ovum warned operators: "video revenues are not going to save your share price in the long term".
Andrew Burke of BT also cited analyst predictions, although he noted that "as an industry they've probably made more incorrect forecasts than the weather man". He managed to avoid mentioning a launch date for their hybrid broadband and broadcast service, although he did say that their box will support high-definition television.
BT's position is that, as far as the consumer is concerned it is "all about TV, not IPTV". Although niche content may provide opportunities, it is a difficult sales proposition. For BT he said the marketing message needs to be simple: "it's movies on demand".
According to Cisco, "IPTV is really about IP," which is understandable given their core competencies, but seems to misunderstand the consumer proposition. Infrastructure providers may need to build more intelligence into their networks, but the consumer does not care.
Lucent, and others, made the point that the successful consumer offering will require blending, rather than bundling, services, as "bundling alone will not create lasting incremental value".
Paulo Agostinelli admitted that Fastweb, one of the first and largest IPTV providers, is "mainly a telecommunications company" and that television alone "is not a strong reason to buy". Only 28% of Fastweb customers take the television service.
Roger Lynch, responsible for the "remarkably persistent HomeChoice" service from Video Networks, "one of the most, if not the most, advanced providers of these types of service in Europe," provided a positive view, while avoiding any suggestion that the company might be up for sale. "We will be launching HDTV shortly," he said, but could not be drawn on a date, although their current set-top box does not support high-definition.
No-one noted that Kingston Interactive Television, one of the first pioneers of broadband television, was about to pull the plug on their service.
Scott Alcott of Belgacom was positive about the prospects, describing the Belgian market as "a big pregnant opportunity" and said "we have nowhere to go but up".
Hou Ziqiang of China Netcom advanced the view that the architecture for IPTV needed to move from a client-server model to peer-to-peer delivery. This seems understandable, given the sheer scale of the Chinese market, and the opportunities to distribute on a global scale. He said this "will create a multimedia universe of a scale no-one can comprehend". It certainly seems that the Chinese regulator, the State Administration of Radio, Film and Television, SARFT, holds an opposing view that requires secure, managed networks, for reasons that may be equally obvious.
There was much talk about content protection and encryption, and whether software systems alone are sufficient. It seemed clear that the purpose is mainly to enable operators to acquire premium programming and to protect subscription services, rather than the copyright material itself. Despite attempts to plug the gaping 'analogue hole,' with secure connections right through to the display device, history has shown that such forms of encryption are inevitably ultimately futile.
Dom Stasi of TVN provided an alternative perspective, suggesting that most organised piracy currently occurs elsewhere in the production and distribution chain, and demonstrating the importance of digital watermarking to provide forensic evidence of the provenance of illegally distributed content.
The session on advertising concentrated mainly on the UK experience of interactive television advertising, rather than addressing the possibilities of targeting individual consumers and building a more direct relationship with them over time.
Although IPTV is ultimately based on open standards, there is little interoperability between current systems. Glenn Hall of HP suggested that IMS, the IP Multimedia Subsystem being advanced mainly by the mobile community, would bind together technical realities in ratified, open standards for a services oriented architecture.
While there were plenty of presentations, case studies and business cases from operators and technology providers, notably missing were live demonstrations of deployments or systems.
Microsoft gave a presentation, but no demonstration, and the examples seen elsewhere did little to excite interest in the real possibilities of the medium.
Steve McKay of Entone warned that it was not possible to justify personal television on increased revenues, but "you're not going to be left with a choice". He predicted that within ten years video on demand will simply be the way you watch television and it will lose its novelty value.
Stuart Baxter of Sony noted that the attendance at the conference was evidence of how the industry is growing dramatically, with all the components participating, but suggested that they were still competing, and it is a challenge to the interests of many players "to create a coherent consumer proposition".
Next year, the picture should be much clearer, if not in high-definition.