Two Way TV has signed an exclusive agreement with Celador International to develop the first interactive cable television version of Who Wants to be a Millionaire?
Subscribers to NTL or Telewest cable television in the UK will be able to take the hot seat at any time of day and play an interactive game based on the hit television quiz.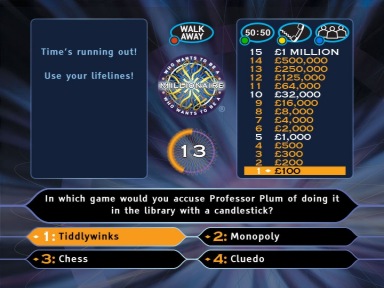 Interactive players will be able to ask the audience, phone a friend or take a 50:50 as they climb the money tree to the million pound question. The top three highest scorers each week will be guaranteed to win big cash prizes.
"The Millionaire brand, which is a household name, is the most successful interactive TV game of all time," said Jean de Fougerolles, the chief executive of Two Way TV. "It will be a fantastic new addition to our games channel and provides great revenue opportunities."
Simon Gunning, Director of Interactive, Celador International said: "Two Way TV's cable version of the interactive Who Wants to be a Millionaire? game is another example of how this hugely successful TV quiz format continues to grow into a global digital brand".