The UK's long-awaited NHS Direct interactive television health information service is finally launched.
The National Health Service in the UK currently provides a telephone advice and an online health information service, which is being expanded to cover digital television platforms.
Initially available to satellite viewers, NHS Direct Interactive on digital television offers access to around 3,000 screens of basic health information on a range of subjects.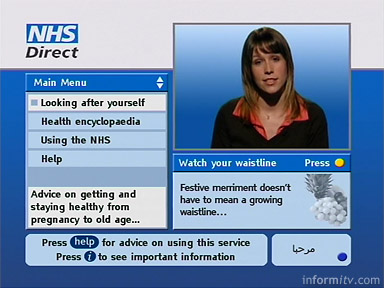 Material provided includes a health enclyopaedia covering common conditions, with general advice on other health matters such as diet and nutrition, together with video clips on a range of health topics.
The information service will be expanded over time and is eventually expected to include transactional services such as booking appointments.
Launching NHS Direct Interactive, Health Secretary John Reid said: "For the first time ever, people will be able to access NHS accredited information through their television sets. This will be one of the biggest digital television interactive services in the world, dramatically increasing access to health information and advice through people's televisions."
Dr Reid said the interactive TV service would help tackling inequalities in health between the richest and poorest sections of society because access to digital television is not confined to those in the highest socio-economic categories.
Interactive health service
Rather than being launched from a conventional channel, the interactive service is currently only available through the second page of the interactive services menu, accessible through the interactive button on the Sky remote.
Once launched, the crisply designed NHS branded screens offer rapid navigation to information. In addition to an introductory help video, there are three extended video loops available on health topics.
With a heavy emphasis on offering guidance in using the service, careful attention has been paid to ensure that it is easy to use and accessible to its audience.
Given the volume of material included, it is also relatively quick to access. The majority of the information is textual, with occasional illustrations and images.
The initiative was originally commissioned at the beginning of 2004, after a series of pilot projects to assess the potential of digital television for delivering health information.
Following a competitive tender, the initial three-year contract for the project was awarded to MMTV together with PA Consulting and usability specialists Nomensa.
The service was expected to launch in the summer of 2004 and be available on all digital television platforms by the end of the year, according to the aggressive schedule originally set.
MMTV was subsequently acquired from its parent company Multimedia Television plc by the iPublic division of YooMedia plc at the end of September 2004, positioning YooMedia as a key supplier for public service interactive television.
The government will be investing £5m a year for three years in NHS Direct Interactive, around 10 pence a year for each person in the country, which it is said will cover the cost of running the service across all the main digital television platforms.