The Sky Active portal is being re-launched as a video magazine, in a move which Sky hopes will further promote interactive revenues.
While television channels promote the red button as the entry point for enhanced programmes, the interactive button on the Sky remote has always taken viewers away from programmes to a separate menu-driven interactive portal.
These twenty-four hour interactive services, particularly betting, contribute significant revenue to Sky. However, while turnover on SkyBet alone was up 18% in the last quarter to £59m, remaining revenues from Sky Active were down 12% to £22m.
By creating greater visual appeal and improved usability, Sky aims to encourage more frequent visits and greater usage of Sky Active's existing range of services, including games, dating, betting, what's on guides and the National Lottery.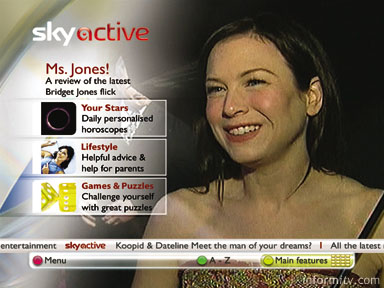 Televisual experience
A radical re-positioning of Sky Active will create an editorially led televisual experience more like a video magazine, using broadcast material to add gloss and grab viewers. A video-based introduction will feature short programmes produced by a dedicated editorial team. The main menu mosaic will feature a selection of no less than sixteen screens.
The interactive service has been developed using the Sky WTVML browser, rather than a bespoke application.
Content will be updated daily and changed during the course of the day. The editorial focus will address two distinct day parts and user groups: a daytime audience that mainly reaches women and a late night audience skewed more towards betting and dating.
It is a long way from Open…, the first ambitious attempt at an interactive portal on Sky, which failed to convince viewers of the virtues of a virtual retail experience on television.
Ian Shepherd, managing director of Sky Interactive, says that with the launch of the new service "Sky aims to re-assert its creative leadership in interactive television".