Starz Encore Group has broadcast the first satellite transmission of an OpenCable Applications Platform service. It marks the first live satellite transmission of an OCAP application outside the lab.

Starz president and COO Robert B. Clasen said "Starz was happy to provide the facility for the first out-of-the-lab demonstration of OCAP and looks forward to the era of interactive television."
Rebecca Lim, director of interactive television for Starz, said they became involved as CableLabs was close by in Louisville, Colorado and they were looking for a programming partner with whom to run an end-to-end test.
CableLabs president and chief executive Dr Richard Green said "The successful transmission of an OCAP application from uplink to headend to end user is a major step forward in creating an environment in which interactive TV, long a blue sky promise, can become a reality".
It may be another small step for OCAP but it's a giant leap for interactive television in America and a breakthrough for open standards.
Rebecca drew a comparison with the development of the DOCSIS standard for cable modems, which also came out of CableLabs, the non-profit research and development consortium of the US cable industry.
A wholly owned subsidiary of Liberty Media Corporation, Starz Encore Group is the largest provider of premium movie services in the United States. Although only a brief test transmission, the interactive broadcast makes Starz the first operator to embed OCAP functionality within a broadcast in the US.
The application consisted of a branded "mini-guide" giving details of "What's On Tonight," "Saturday Premieres," and "Movie Extras" about new releases.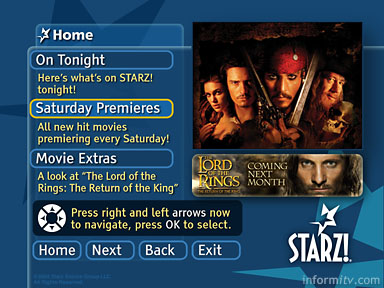 OCAP is a middleware software layer specification developed by the cable industry consortium CableLabs. Based on the European MHP standard, it promises to allow interactive television services and applications to run across different cable television systems, independent of set-top or television receiver hardware or operating system software.
The transmission of an OCAP-based application from the Starz uplink facility was the first use of OCAP outside the laboratory environment. It follows an earlier technical demonstration at the CableLabs headquarters, in which some 24 companies demonstrated a wide range of interactive television applications capable of running on the software.
The simple application was developed by SysMedia and played out using the TSBroadcaster headend server from Strategy and Technology provided by UniSoft Corporation.
The broadcast was received on a i-CAN3200 set-top box from European supplier ADB running an OCAP stack supplied by Osmosys.