Comcast clearly considers Sky is worth nearly £30 billion, more than double its market value two years ago. With Comcast winning the bid to control Sky, what are the implications for Netflix? Will it simply end up as part of the pay-television bundle?

Comcast ultimately secured control of Sky in a blind auction process, with a final bid of £17.28 a share, versus a bid from Fox of £15.67 for the 61% of Sky it did not already own.
The deal has been characterised as a fight back against Netflix but in practice it is more about international expansion for Comcast, which has been slowly leaking television subscribers in the United States.
Comcast has 21.07 million television customers in the United States, or 400,000 fewer than it had the previous year.
Sky has 21.71 million television customers in Europe and added over half million households over the year.
The addition of Sky will make Comcast the largest pay-television operator outside China, with 42.78 million television customers in total.
That is still a lot less than Netflix, with 124.35 million subscribers, of which 55.96 million are in the United States, although they pay a lot less every month.
Netflix may have a market capitalisation of around $157 billion, but in 2017 it generated a net income of $558 million on revenues of $11.69 billion.
In comparison, Comcast reported total revenues for 2017 of $85.03 billion, $22.87 billion from video alone, with earnings of $27.96 billion and a consolidated free cash flow of $9.71 billion. Sky reported annual revenues of £13.6 billion and earnings of £2.5 billion.
For Comcast it is all about increasing scale. It has previously unsuccessfully attempted to acquire Disney and Fox. The addition of Sky gives it a valuable expansion into Europe.
Brian Roberts, the chairman and chief executive of Comcast, said "This acquisition will allow us to quickly, efficiently and meaningfully increase our customer base and expand internationally".
Rather than battling against Netflix, both Comcast and Sky have been embracing the upstart competitor.
Comcast added Netflix to its X1 platform in 2016, including integrated search across all titles and the option of including Netflix on a single bill.
Sky will also offer Netflix on its platform from November. For an additional £10 a month, Sky Q subscribers will get access to Netflix on Sky. Existing Sky Q customers with Netflix will be able to move their account across, or continue to access it separately through an app on the Sky Q box.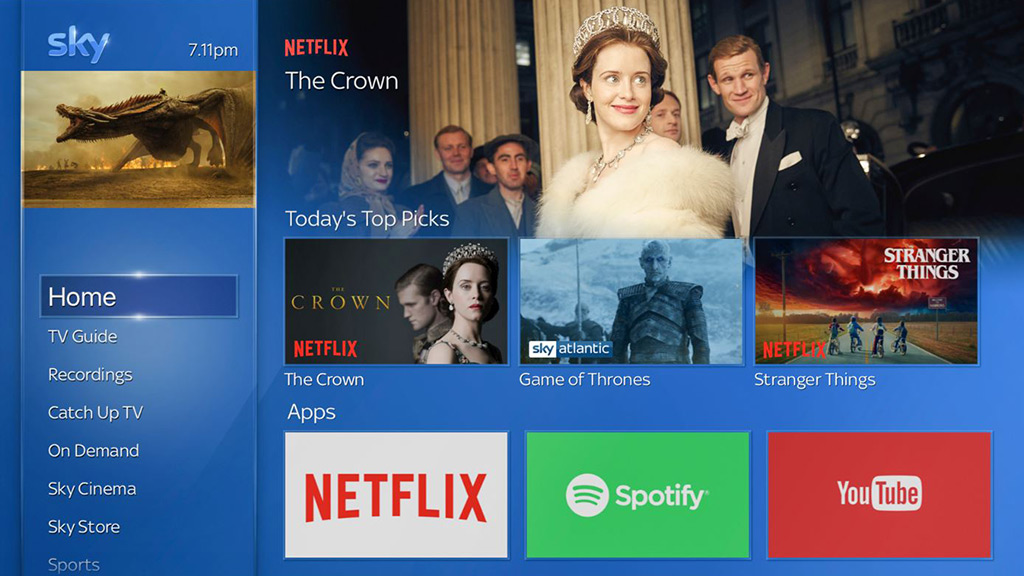 The aim is clearly to make the unified service more attractive for both parties, to reduce customer churn.
This is not an entirely new idea. Virgin Media was the first pay TV provider to offer access to an online video service like Netflix onto its platform, back in 2013. From October, all new and existing Virgin TV customers who don't yet have Netflix will be able to instantly add and pay for Netflix through their Virgin Media bill.
Sky is the first service provider to offer access to Netflix programming through a unified user interface, rather than as an app. In practice, Netflix will only be available to Sky Q customers, of which there are 2.7 million homes in the United Kingdom and Ireland.
However, it could be a sign of things to come, providing a precedent to enable Comcast to offer Netflix programming as a more integrated part of its X1 platform.
Back in 2013, Ted Sarandos of Netflix said: "The goal is to become HBO faster than HBO can become us."
That could be where Netflix ends up, as part of a traditional pay-television bundle that is also available as a standalone direct to consumer offer.