The Apple iPhone first went on sale on 29 June 2007. The world of mobile communication, and mobile video in particular, has been transformed in the ten years that followed. Yet the transformation of television in the way that it redefined the phone has so far eluded Apple.

The original iPhone had a 3.5-inch 320×480 pixel screen. When the iPhone was first announced, informitv said that it could redefine our view of the mobile phone.
Indeed it did, introducing the touchscreen smartphone that has revolutionised the way the world communicates.
In its first year, Apple sold 1.4 million iPhones, which was modest in the mobile market, but it changed the model of interacting with a handheld device through its multitouch screen interface. That led to the introduction of the iPod Touch and then the iPad and the creation of the tablet category.
It prompted many similar products that copied key features. The majority of them used Android, an operating system developed by Google after it acquired Android Inc in 2005.
The iPhone may not have the largest market share, with Android now representing 85% of sales, but Apple has managed to command an estimated 80% of the profit share.
Within ten years, Apple sold over a billion iPhones, selling over 210 million iPhones in 2016, a slight decline on the previous years of growth. That is still over 580,000 a day, or over six every second.
The iPhone represents more than 60% of revenues for Apple, which has become one of the largest companies in the world, leading the field in market value and profits.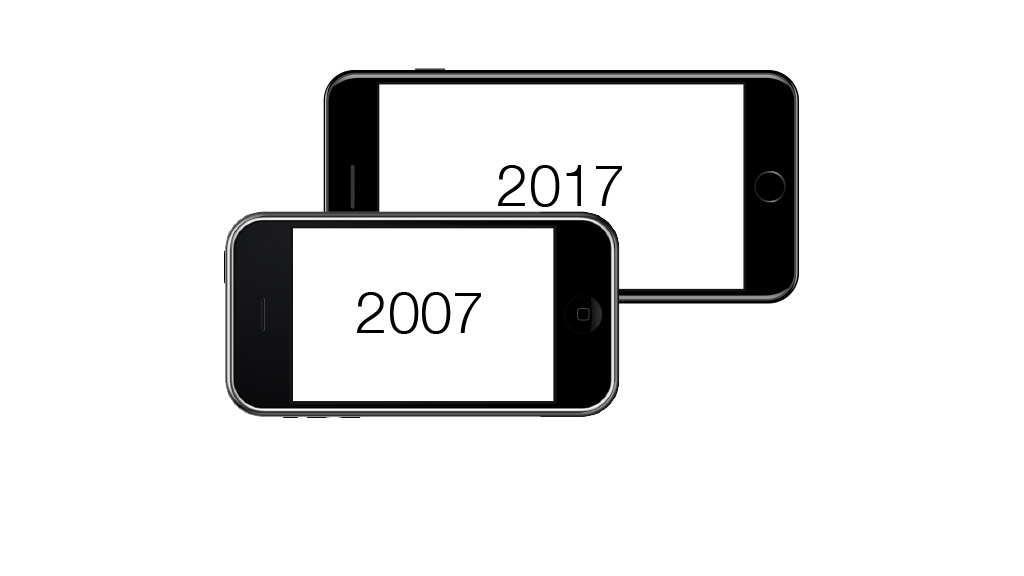 The iPhone 7 has a 5.5-inch screen with a full 1920×1080 high-definition display and a 4K camera. The price has risen too. Nevertheless, loyal Apple customers are eagerly awaiting a tenth anniversary edition.
The Apple TV, launched at the same time as the iPhone, has had much less of an impact. Now in its fourth generation, sales are still relatively modest. It seems Apple has yet to crack the television market in the way that it redefined the telephone.