Amazon will be offering live television channels in Europe. Customers who subscribe to the Amazon Prime service in the United Kingdom and Germany can pay an extra monthly fee to watch channels including Discovery, Eurosport and ITV. The initial line-up is rather limited, offering more of a fast food menu than a full à la carte experience.

While Amazon Prime customers in the United States have been able to watch networks including HBO, Showtime and STARZ, the deal with Discovery means that for the first time customers in the United Kingdom will be able to access its channels, including Eurosport, without subscribing to a traditional television service.
"This partnership underlines our strategic ambition to reach people across every screen," said Susanna Dinnage, President of Discovery Networks UK.
Discovery owns Eurosport, having taken a minority interest at the end of 2012 and agreed to take full control in July 2015. It also has the television and multiplatform rights for the Olympic Games from 2018 to 2024, although much of the coverage will be available on free to air television.
Amazon Prime customers will also be able to sign up to the ITV Hub service, to watch live channels, plus catch-up programmes without commercials, for £3.99 a month.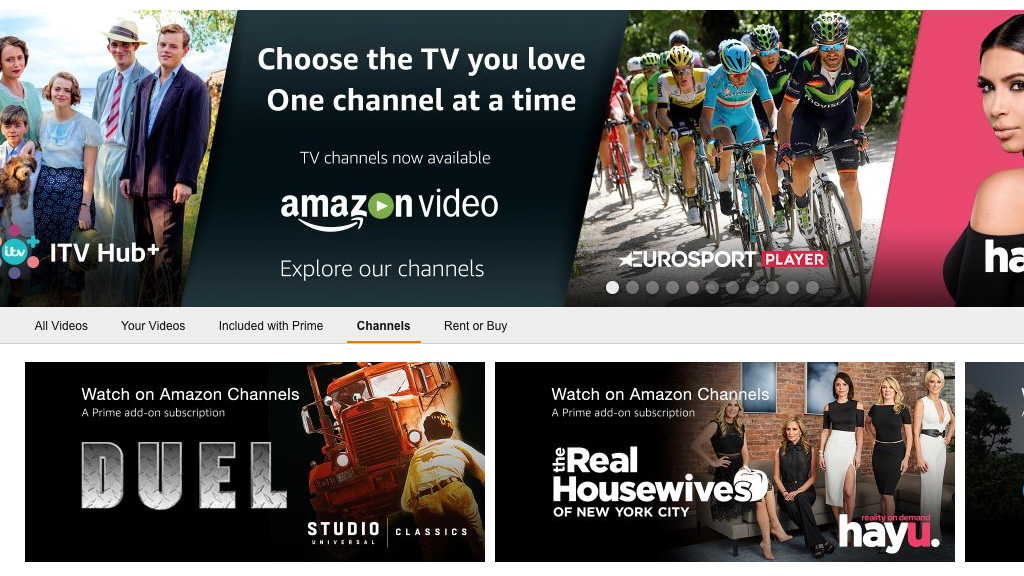 The Amazon channel line-up in Europe is frankly rather limited at the outset. Many major broadcasters have so far declined to participate on the terms offered by Amazon.
Alex Green, a former BT TV executive that joined Amazon to lead its push into television and video, has said he is confident that more broadcasters will join once the service is available and attracting paying customers.
"For the first time, Prime members in the UK and Germany will be able to choose to watch premium TV channels without having to sign up to a bundle or a contract, giving them the freedom to pay for only what they want to watch," he said. "From live sport to Bollywood, arthouse cinema to reality TV, and award-winning TV shows from popular channels like Discovery and ITV, Amazon Channels gives power back to customers to choose exactly what they want to watch."
Among the 40 channels on offer is a motley collection of fitness videos and niche movie services. They are available at various price points, from £1.49 a month for the Panna recipe and cookery course channel to an eye-watering £9.49 a month for Sweatflix, offering workout and yoga videos. There are free trials available for many of the services.
Many of these services are available on other platforms, or as standalone apps, but may benefit from promotion on the Amazon platform.
They include successful standalone services, like the kids service Hopster, wildlife specialist Love Nature, and MUBI, which offers a different movie every day.
The concept of live channels extends to programmes that are available on demand. However, it is hardly an à la carte menu, but more of a fast food home delivery service for occasional snacking.
While big broadcasters continue to boycott the Amazon platform it poses little threat to mainstream pay-television services. Yet it can only be a matter of time before more major networks start to break out of bigger bundles to offer them as add-on options.
It remains to be seen whether people will be prepared to pay a premium for a handful of separate channel brands, rather than the all-you can eat buffet from traditional television service providers.