Molotov claims to offer a radical new way to watch television. Now available in France, the main French channels are available for free with up to ten hours of recording, with premium options for additional storage and over 70 high-definition channels. The startup company has managed to pull together a comprehensive multiscreen service that aims to start a French revolution in television.

For a couple of years the startup company has been working to reinvent television in France. It has signed up all the major French networks, including Canal+. The founders include Pierre Lescure, who was one of the founders of the Canal+ channel back in 1984.
The company says it offers an intuitive discovery experience that respects the traditional ecosystem and conventions of television. It aims to reinvent the daily pleasure of watching television.
The user interface mixes live and previously broadcast programming and movies to create a constantly changing catalogue. Each show has its own poster image, with a progress bar indicating whether the broadcast has already begun or if it is available for catch-up viewing. Users can also bookmark future shows for later viewing. They can also resume viewing from the same point, even on another device.
There is keyword search, with a 'follow' facility to watch for whenever a particular actor, director or personality appears on television. Further smart notifications and alerts are promised in the future, along with social features.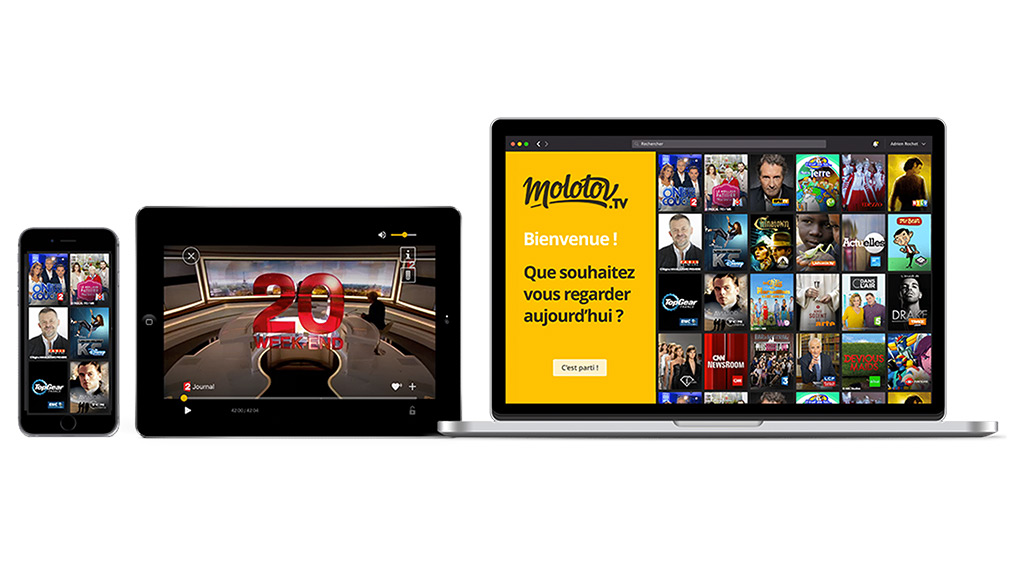 The experience is similar across different devices. Molotov is currently available on smartphones, tablets, personal computers, Apple TV and connected televisions.
Molotov offers 33 channels for free, including 25 channels of French digital terrestrial television channels, and up to 10 hours of bookmarks. Users can add up to 100 hours of bookmarks for €3.99 a month, or over 70 channels in high definition and up to four simultaneous streams and 100 hours of bookmarks for €9.99 a month, with no continuing commitment.
Many have tried to break away from the conventions of the grid guide to offer a more visually appealing selection of shows. One of the problems they all face is that this episodic medium often lacks a defining visual image to represent a title, let alone a particular programme or episode, in the way that a movie or music album can be instantly recognised.
The television industry has also been resistant generally to the aggregation of individual programmes outside the convention of traditional channel brands.
Whether or not Molotov has created a cocktail that will spark a real revolution in viewing, it has already succeeded in packaging a proposition in a way that the traditional television business has found challenging.