Sky gained 337,000 retail customers in the last three months of 2015, including 146,000 television customers in United Kingdom and Ireland, where churn in the last quarter was down to the lowest level for four years. Sky also added 120,000 customers in Germany and Austria and 12,000 in Italy. James Murdoch, the former chief executive, is returning as chairman of Sky. The company also announced pricing for its new all singing, all dancing Sky Q box, in advance of its planned launch of Ultra HD services.

Sky gained 533,000 retail customers in the United Kingdom and Ireland in the course of 2015. It ended the year with 12.28 million retail customers in the United Kingdom and Ireland, up 205,000 in the last quarter, slightly more than in the same quarter the previous year. That includes television, broadband and telephone customers, although Sky added 146,000 television subscribers in the quarter.
Sky has managed an unbroken run of subscriber gains, according to the informitv Multiscreen Index.
There are now over 7.5 million broadband connected boxes, up by a million in a year. This resulted in 688 million connected views in the quarter, up by a third year on year.
Sky had 21.47 million retail customers across Europe at the end of 2015, a gain of 337,000 in the last quarter. Sky also has 4.20 million wholesale customers, most of them through Virgin Media in the United Kingdom and Ireland.
In Germany and Austria, Sky ended the year with 4.49 million retail customers, with 145,000 wholesale customers. It has added 370,000 television subscribers there in a year, making it one of the fastest-growing pay television markets in Europe.
Sky ended 2015 with 4.70 million subscribers in Italy, which was 12,000 up on the quarter but down 34,000 year on year.
Jeremy Darroch, the chief executive of the group, said the company strategy was paying off. "We have had another very strong half as we continue to transform Sky, broadening our business and expanding into new markets and customer segments," he said. "This strategy is delivering today and opening up significant growth opportunities for the future. We are pursuing those opportunities with energy and purpose."
James Murdoch, the former chief executive of Sky, will return to the board as chairman at the end of April.
Sky has defied industry concerns that its market is maturing as it continues to add subscribers. It is not clear how far its low cost, pay-as-you-go NOW TV offering is contributing to its television numbers, but the company is clearly committed to a modern, multiform, multiscreen strategy across its European operations.
Sky has announced the availability of its new Sky Q box in the United Kingdom and Ireland. The 4k-ready Sky Q Silver box starts at £54 a month with basic channels, rising to £88.50 a month with Sky Movies and Sky Sports, on an 18-month contract. The box itself will cost £299 plus £99 for an optional multiroom product, and £50 for installation. That comes down to £99 for customers taking broadband, sports or movies. Sky says the cost for existing Sky+ customers will be an additional £12 a month.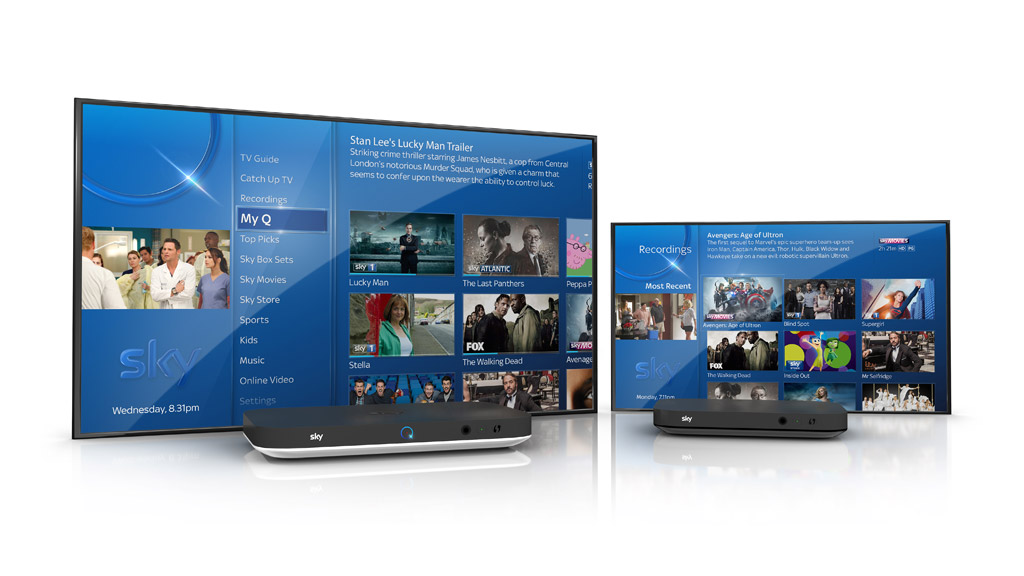 It is the "most significant" new product for ten years, the launch of its high definition service.
"We wanted to completely re-imagine TV, making it flexible and seamless across the screens in our lives," said Stephen van Rooyen of Sky.
The concept of 'fluid viewing' allows users pause a programme in one room and pick it up on another television or tablet in the home. In response to customer demand it also allows users to take recordings with them on their tablet.
Sky is planning to launch an Ultra HD service later in 2016.