The European Commission has presented proposals to create a digital single market. The ambitious aim is to bring down regulatory walls and move from 28 national markets to a single digital market with over 500 million potential customers. The plans have significant implications for digital media services, disrupting rights models based on individual territories.

Commission President Jean-Claude Juncker said: "I want to see pan-continental telecoms networks, digital services that cross borders and a wave of innovative European start-ups. I want to see every consumer getting the best deals and every business accessing the widest market — wherever they are in Europe."
The proposals include 16 actions the Commission aims to deliver by the end of 2016.
Andrus Ansip, the vice-president for the digital single market, said: "They will give people and companies the online freedoms to profit fully from Europe's huge internal market."
"Our economies and societies are going digital," added Günther Oettinger, the commissioner for the digital economy and society. "Future prosperity will depend largely on how well we master this transition."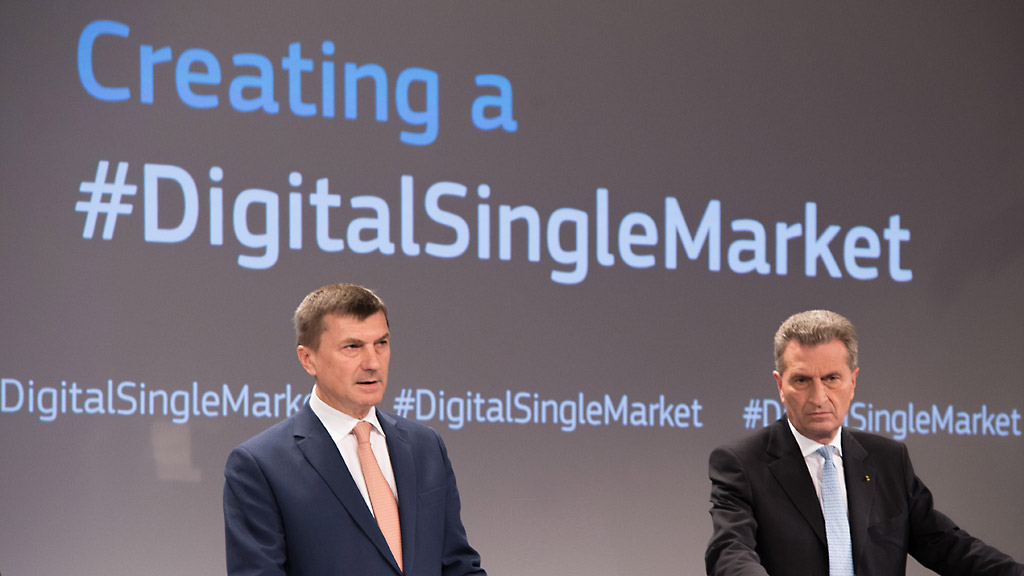 Among the proposals is an aim "to end unjustified geo-blocking — a discriminatory practice used for commercial reasons, when online sellers either deny consumers access to a website based on their location, or re-route them to a local store with different prices." It suggests that in many cases geo-blocking is not justified and can even be contrary to competition rules.
New copyright legislation is also proposed. "In particular, the Commission wants to ensure that users who buy films, music or articles at home can also enjoy them while travelling across Europe."
The Commission recognises that the "financing of the audiovisual sector widely relies on a system based on territorial exclusivity, which as such cannot be considered as unjustified geo-blocking". It suggests that being able to access online content legally across borders "will help deal with geo-blocking concerns, while respecting the value of rights in the audiovisual sector."
The proposed copyright reform will recognise the "portability of legally acquired content". In other words, if you have legally paid for an online service while at home you should be able to access it in another European Union country.
It will also address access to online services from other member states. If a service can be bought online in one European Union country the Commission questions why it should not be available in another. It says this is not about opening access to all content for free, but suggests that "if a film is available on a video-on demand service in an EU country, Europeans outside the country can also pay to see it."
The Commission will review the Satellite and Cable Directive to see if it should include the online services of broadcasters and "explore how to boost cross-border access to broadcasters' services in Europe."
It will also review the Audio Visual Media Services Directive, focussing on the role of broadcasters and on-demand audiovisual service providers in the promotion of European works.
The Commission argues that the scale provided by a digital single market in Europe will help companies grow outside the European Union and make the it an even more attractive location for global companies.
The consequences could be considerable. The media market is currently based on licensing by territory. A digital single market might mean that service providers would have to offer access to online media throughout the Europe Union. In many cases their existing distribution licences would not allow this. A European directive could enable them to do so.
By opening up access to a market of over 500 million people, it could enable European players to achieve economies of scale.
This might be bad news for rights owners, who generally benefit by packaging rights by territory. It could be good news for consumers, particular those in smaller states that could benefit from access to online media from larger markets within the European Union.
While the proposals are intended to benefit people in Europe, there could be unintended consequences if major global corporations are able to consider Europe as a digital single market. That could benefit companies like Google, Amazon and Netflix. It could lead to increasing dominance of Hollywood productions, rather than encouraging creative industries in Europe.
We can expect a lot of lobbying on the proposals from vested interests and after consultation and consideration the end result may be more of a compromise.
Interestingly, research for the Commission does not suggest significant consumer interest in accessing audiovisual content across European borders.
Only 17% of those polled in the United Kingdom were interested in receiving content from other European countries when at home, compared to the average across Europe of 19%, or 33% in a country like Sweden.
22% of those in the United Kingdom were interested in watching or listening to content from home when travelling abroad, compared to 27% across Europe or 31% in Sweden.
While some in the United Kingdom may be more Eurosceptic than many of their continental neighbours, media business based there might benefit from more open access to a digital single market.
That may depend on whether the country votes to remain within the European Union or seeks to reduce the power of politicians in Brussels. At the moment, plans for a digital single market do not appear to be high on the national political agenda.