A year after acquiring the Microsoft Mediaroom product and team, Ericsson is outlining its plans for the platform. Ericsson is essentially enhancing the Mediaroom proposition while developing a new cloud-based platform it is calling MediaFirst, which it introduced at the IBC show in Amsterdam.

The Ericsson MediaFirst platform claims to combine the best of pay-television and web technologies to deliver innovation at 'web speed' through rapid release cycles. Like many other vendors, Ericsson is embracing a cloud-based architecture to be offered on a software-as-a-service model. Currently in trials with some operators, it is expected to be generally available in the second quarter of 2015
Ericsson MediaFirst aims to offer a seamless multiscreen experience that can combine traditional pay-television and online video services. Rather than primarily addressing set-top boxes, it is equally aimed at smartphones and tablets. The proof of concept shown at IBC, while running on real boxes is clearly a work in progress and some way from being a finished product.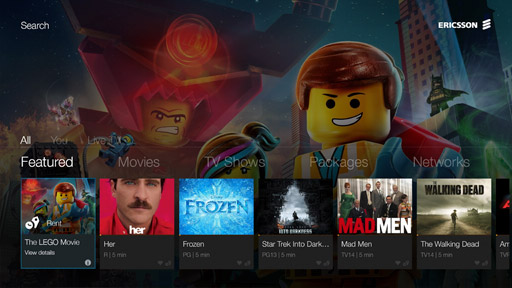 At the show, during a briefing with analysts, Ericsson announced the acquisition of Fabrix Systems, which specialises in network digital video recording. This will be integrated into the MediaFirst and Mediaroom solutions. Founded in Israel in 2006, Fabrix Systems has just over a hundred staff. Ericsson will pay $95 million for the company and expects the deal to close in the fourth quarter of 2014.
Meanwhile, Ericsson is enhancing the existing Mediaroom platform. A 'restart' feature will allow viewers to return to the beginning of a programme. 4K and High Efficiency Video Compression will be introduced through new set-top boxes running on ARM based system-on-a-chip processors, rather than the WinCE boxes previously mandated by Microsoft.
Ericsson is also introducing hybrid capabilities to combine services delivered over internet protocol networks with traditional digital terrestrial, cable or satellite signals based on DVB standards. It has partnered with iWedia and its open source Android4TV framework. This takes Mediaroom into new markets, beyond telco operators.
To extend services to other screens, Ericsson is also introducing Mediaroom Reach, based on technology gained with the acquisition of Azuki Systems earlier in the year. Founded in 2008 in Massachusetts, Azuki Systems had around 50 employees and offered TV Everywhere solutions.
Ben Huang, who heads marketing for the Mediaroom group, said they did not want to confuse the market and that Mediaroom and MediaFirst are two very different value propositions. However, it is difficult not to see MediaFirst as the long-term successor to Mediaroom.
Bringing all this together into a coherent portfolio presents a significant technical challenge for Ericsson, although it is one that Pete Thompson, who joined with the team from Microsoft, clearly relishes.