The United States Supreme Court has ruled in a landmark opinion that the Aereo online streaming service breaches the copyright of broadcasters. The 1976 Copyright Act in the United States grants the copyright owner the exclusive right to perform the copyrighted work publicly. In a 6-3 majority ruling, the court determined that Aereo 'performs' works 'publicly' and in effect ruled that it is no different from a cable company. In so doing it reversed the previous judgement of the Court of Appeals, opening the way for further legal action or injunctions against Aereo.

It represents a potentially fatal blow to Aereo, which claimed its centralised arrays of dime-sized antennae simply offered a way of accessing free over the air television over the internet, for a modest monthly subscription. The start-up company claimed it had no 'plan B' in the event of an unfavourable judgement and it may be a case of 'game over' for Aereo unless it can somehow pivot its business model.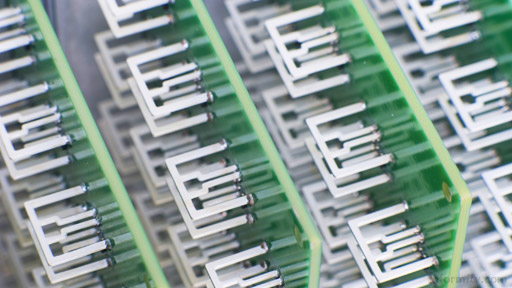 The decision is a major victory for American broadcasters, which earn billions of dollars from retransmission consent fees from pay-television service providers.
While it may mean broadcasters and pay-television providers can return to business as normal, it does not prevent others from attempting to disrupt the model of television delivery.
A critical dissenting opinion from three of the judges noted: "That claim fails at the very outset because Aereo does not "perform" at all. The Court manages to reach the opposite conclusion only by disregarding widely accepted rules for service-provider liability and adopting in their place an improvised standard ("looks-like-cable-TV") that will sow confusion for years to come."
While agreeing that what Aereo is doing "ought not to be allowed", Justice Antonin Scalia, dissenting, wrote: "we have before us must be considered a "loophole" in the law." He continued: "It is not the role of this Court to identify and plug loop- holes. It is the role of good lawyers to identify and exploit them, and the role of Congress to eliminate them if it wishes. Congress can do that, I may add, in a much more targeted, better informed, and less disruptive fashion than the crude 'looks-like-cable-TV' solution the Court invents today."
He concluded, echoing the Supreme Court judgement on Sony, which voted 30 years previously by a majority of one judge to allow domestic video cassette recording of broadcasts: "the proper course is not to bend and twist the Act's terms in an effort to produce a just outcome, but to apply the law as it stands and leave to Congress the task of deciding whether the Copyright Act needs an upgrade."
In a statement, Chet Kanojia, the founder and chief executive of Aereo, described the decision as "a massive setback for the American consumer" and said it "sends a chilling message to the technology industry".
"We are disappointed in the outcome, but our work is not done," he said. "We will continue to fight for our consumers and fight to create innovative technologies that have a meaningful and positive impact on our world."
Barry Diller, a key investor in Aereo, said that it did not represent a big financial loss, "but I do believe blocking this technology is a big loss for consumers". He praised the chief executive of Aereo for "fighting the good fight".
Whether or not it is the end of the road for Aereo remains to be seen. It has demonstrated a consumer appetite for such a service.
The irony is that broadcast signals are available free to air to receive through a traditional antenna, and there are many ways in which these could be made available to access on a variety of devices.
There is no need for the elaborate array of antennae that Aereo claimed made its service possible, the actual operation of which has yet to be legally tested. It always looked like a gimmick, which the broadcasters claimed was simply a contrived obfuscation.
"It's quite possible this ruling will spur even more innovation around internet delivery of TV services," said Mark Evensen, the founder and chief technology officer of Entone, which provides a platform that fuses over the air and over the top television. "We expect to see operators and broadcasters team together to offer re-transmission of broadcast television services over the Internet. We are already working with numerous global operators to do just that."
The opinion of the Supreme Court of the United States in the matter of the American Broadcasting Companies against Aereo Inc, formally known as BamBoom Labs, is available from the Supreme Court web site.