There are already over 40 million connected televisions in Europe and they could be in the majority of homes within the European Union by 2016, according to IHS Screen Digest. What does it mean for the traditional regulation of broadcasting, if people can access the internet on television and television on the internet? The European Commission has published a paper inviting industry stakeholders and the public to share their views on a broad range of issues arising from the convergence of television and the internet.
"Connected TV is the next big thing in the creative and digital world," said Neelie Kroes, the vice-president of the European Commission, who is responsible for the Digital Agenda for Europe. "Convergence between sectors means people can enjoy a wider choice of great content — but it also creates disruptions and challenges."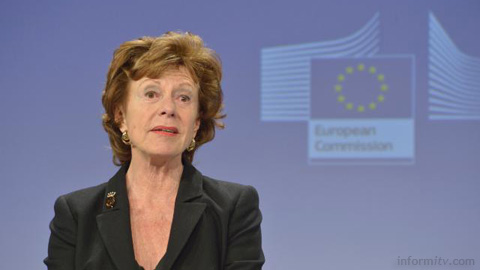 Technology shift is blurring the boundaries between broadcast and online media and indeed between countries.
The European legislation most likely to be affected is the Audiovisual Media Services Directive, which aims to ensure a single market across Europe for the television and audiovisual industry.
A green paper adopted by the European Commission invites people to comment on key issues including competition, values, standards, finance and media pluralism. It questions whether the current approach to regulation will be appropriate in the future.
One of the questions raised is the interoperability of connected television devices using standards such as HbbTV, for instance, whether a product purchased in one member state will work the same way in another.
The green paper questions whether there is a need for action to overcome actual or potential fragmentation and ensure interoperability across borders or a need to develop new or updated standards in the market.
A number of fundamental questions are raised, essentially asking whether existing regulation is adequate in the light of convergence or whether additional provisions are required.
No doubt this will provide an opportunity for incumbent broadcasters and service providers to plead for their status to be protected, while new entrants will argue the need for greater freedoms.
Individuals and organisations are invited to add their voice to the debate, with contributions to be published on the European Commission web site.
Preparing for a Fully Converged Audiovisual World: Growth, creation and values is available from the European Commission web site. Comments are invited until the end of August 2013.