Fibre-optic based services will be the main means of delivering broadband in the United Kingdom within five years. The broadband analyst firm Point Topic predicts that there will be over 10.5 million superfast broadband lines in Britain by then, with another 4.6 million cable broadband connections. That means that almost 60% of broadband customers, and more than half of all homes and business, will have broadband speeds of 30 megabits per second or more by the end of 2016.
"It's still a risky and controversial forecast," said Tim Johnson, chief analyst at Point Topic. "It's always difficult to predict something which is expected to grow so fast. If the forecast is correct, the number of superfast lines will grow 50 times over between mid-2011 and the end of 2016."
"Even more fundamentally, the strength of demand is not there yet," Johnson points out. "Users are not exactly crawling over each other to get superfast broadband today, but we do believe that the demand for bandwidth will continue rising steadily just as it has done for the past 15 years."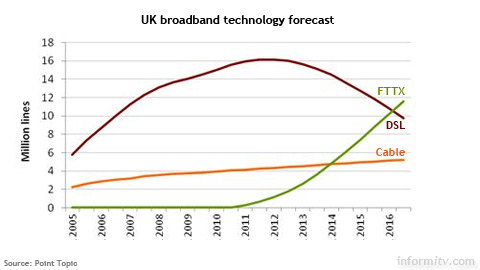 The forecast is also controversial because of uncertainty about both the technology and the market.
BT is gradually rolling out its Infinity service, based on optical fibre to the cabinet, with ordinary telephone lines over the last few hundred meets. BT has announced that it will ramp up the roll out, making it available to at least two-thirds of homes and businesses in the United Kingdom by the end of 2014.
The Point Topic forecast projects that this will not only be widely available, but that it will be taken up by users in commercially attractive numbers.
Point Topic has been accurate in the past. In October 2007 Point Topic predicted that there would be 20 million broadband numbers by mid-2011. The actual number was 20.16 million, a margin or error of less than one percent.