BBC Research and Development has revealed a project that allows users to keep a list of programmes that they want to watch. It covers not only all national BBC television and radio services in the United Kingdom but also a number of partner television channels from ITV, Channel 4 and Five. Until now access to the prototype has been by invitation only but now it is open to anyone with a Twitter account and a love of lists.
The Programme List allows users that sign in with a Twitter account to search for recent and upcoming programmes on television and radio by title, presenter, guest or other keywords. They can add entire shows, series or single episodes to their list. They can then view their personal list of programmes and see when and where they are available, both broadcast and online.
Programmes remain in the personal list even if they are no longer available and then they become active again if a new series starts or the programme is repeated. Users can also see a list of previously selected programmes that are scheduled for the current day.
"Our hypothesis is that there is a gap in the services the BBC provides — between someone becoming aware of a programme and then deciding to seek it out to watch or listen," wrote Tristan Ferne on the BBC R&D web site. "That gap is the process of remembering. We want to try to design a service that will help people capture this intention to watch or listen as near to the initial point of awareness as possible and then remember it for them."
People have always come up with their own ways of remembering what to watch, from highlighting programmes in printed guides and listings to writing them down on the back of an envelope. Sky+ allows users to schedule recordings of programmes remotely from a web site or smartphone application. The green button is used on a number of digital television platforms to schedule recordings from a programme promotion. A number of online video services have the concept of a queue of titles to watch later. Podcast subscriptions will download all episodes of a programme automatically. The BBC iPlayer has a favourites feature that can show when new episodes of a selected programme become available.
What seems to be missing is a way of remembering programmes that works across both broadcast and online television and radio services. The Programme List attempts to address this.
The BBC prototype, now in its second generation, has been designed to work across smartphones, tablets and laptop or desktop computers, although interestingly not specifically for connected televisions, although that is an obvious next step.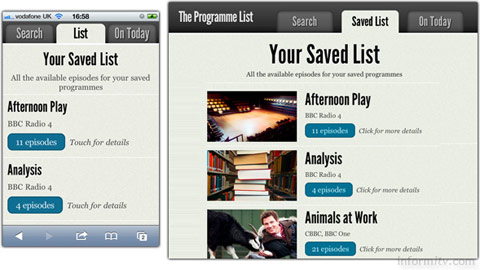 It is an elegantly simple idea and is well implemented. It also demonstrates that there is a benefit in keeping things supremely simple. Twitter itself is a good example of this.
In recent years various attempts have been made to integrate and aggregate the broadcast and online offerings of British public service broadcasters. They have all been tangled in political and technical complexity. YouView has yet to launch, despite or perhaps because of the considerable resources at its disposal and the scale of its ambition. Meanwhile, this lightweight research project could form the basis of something significant.
At the moment the prototype is limited to BBC and other public service broadcaster programming available in the United Kingdom. Although that still accounts for the majority of programming that the population actually watches or listens to, it would need to be a whole market solution to be genuinely useful.
One can imagine something similar, teamed with an existing listing and recommendations engine, such as TV Genius, and exposed through open application programming interfaces, powering a range of third-party products and services across multiple platforms.