A recent update to the Apple iOS operating system brings live streaming capabilities to the second generation Apple TV. It is currently limited to baseball and basketball, but opens up the prospect of new interactive television applications for the Apple TV. Although it remains something of a hobby for the company and its users alike, Apple TV is increasing its usefulness within the Apple ecosystem.
The latest software update for the Apple TV adds MLB and NBA applications, although only the former is available in the United Kingdom and both are subscription services, with limited access for non-subscribers.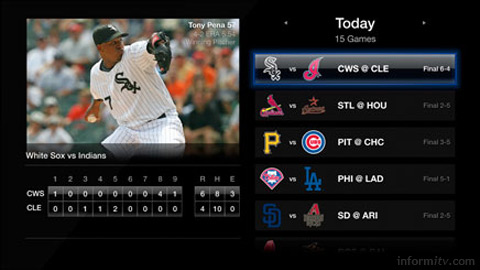 Those with a MLB.TV subscription can now watch live matches, subject to some local blackouts, with pause and rewind features, and view previous games on demand. Non-subscribers can view team schedules and real-time scores, stats and standings. Similar facilities are available for NBA.com League Pass subscribers.
Both applications follow a similar template, with a familiar Apple TV look and feel, but with glossy team graphics and detailed statistics. They both benefit from the usability of the Apple interface, navigated through simple cursor controls. This is interactive television as long promised, finally coming to the Apple TV.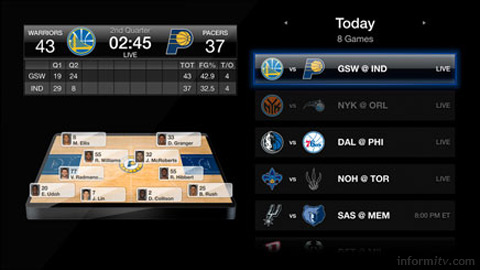 MLB.TV is already available on a wide range of devices, including personal computers, Sony PS3 games consoles, Roku and Boxee boxes, Samsung and LG connected televisions and Blu-ray disc players, and the Apple iPhone, iPod Touch, iPad, as well as Android phones. However, the level of integration and ease of use with Apple TV is outstanding.
The significance of the latest Apple TV update is that it significantly increases the prospects for the platform, which has so far fulfilled some user requirements very well but lacked a compelling proposition.
It is anticipated that further applications will come to the Apple TV platform, which shares many similarities with the hardware and software of the Apple iPad, although naturally there are very different user input requirements. These new baseball and basketball apps provide one indication of how the user experience may need to be modified to work with a remote control.
The Apple TV could also come into its own as a companion device to the iPhone, iPod Touch and iPad, with these providing user input.
The previous update introduced AirPlay, a feature that allows video to be streamed from any of these devices to be viewed on a screen connected to Apple TV. It is now possible to shoot a video on the latest versions of the iPhone, iPod Touch or iPad and then stream it wirelessly to the television screen through Apple TV. Again, this significantly increases the utility of Apple TV within an Apple ecosystem.
The latest operating system update extends this compatibility to third-party apps. However, web videos must be specifically tagged to allow AirPlay streaming, in deference to concerns from rights holders.
Users can now wirelessly access their media available within iTunes on all iOS devices through Home Sharing, so they no longer need rely on synchronisation or be limited by the local storage on the device when on the same wireless network.
Apple said it had sold a million second generation Apple TV devices in the three months to Christmas 2010. In all over 160 million iOS devices have been sold worldwide, including over 100 million iPhones. Over 10 billion apps have now been downloaded from the App Store, from a range of over 350,000, including 65,000 native iPad apps.
All of which suggests that Apple is more concerned with addressing the media needs of the connected home, rather than simply concentrating on the connected television.