YouView has been confirmed as the brand name for Project Canvas, the joint venture video platform backed by the BBC, ITV, Channel Four, Five, BT, TalkTalk and Arqiva which plans to launch sometime in 2011. YouView, which has echoes of both YouTube and Freeview, was previously one of the names considered for Project Kangaroo, which was blocked by the Competition Commission. Arqiva subsequently acquired the assets, including the brand they chose instead — SeeSaw — which will now also appear on YouView.
YouView will change the way you watch TV forever. That at least is the promise, with a programme guide that goes both forwards and backwards in time to provide both scheduled and catch-up programming. It will bring into one place online access to programmes from the broadcast partners that are currently available through their respective web services.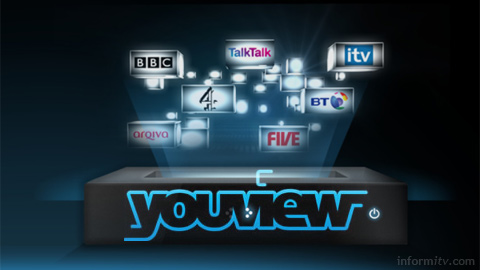 That was also the promise of Project Kangaroo, which was blocked by the Competition Commission as a threat to competition. Project Canvas is very different, apparently. However, it has faced criticism from pay-television operators and some consumer electronics companies and a number of complaints have been filed with the communications regulator Ofcom.
"I can rest very easily at night thinking that this is a service which will be pro-competitive," said Kip Meek, the chairman of YouView TV Limited, who has previously served on the board at Ofcom. "We are confident that the competition issues will be laid to rest."
Richard Halton, will be the chief executive of the joint venture. The former project director of the initiative was previously controller of business strategy at the BBC. He said that YouView "is for those 10 million people who decided not to pay, or decided they can't pay, for subscription television."
It is now very clear that rather than simply promoting an open standard for connected television, YouView is being presented as a platform that will take on Freeview and Freesat, hoping to emulate their success and provide a subscription-free alternative to cable and satellite with a combination of terrestrial television and broadband video.
Broadband service providers BT and TalkTalk perhaps stand to benefit most from YouView, having failed to succeed with their own television services on that premise.
Cisco, Humax and Technicolor have been named as innovation partners in the project, which is currently based at the BBC. More than 40 other companies have expressed an interest in working with the platform, but it remains to be seen whether it will be supported by the major consumer electronics companies like Samsung, LG, Panasonic and Sony who between them account for the majority of sales of television sets.
Everything Everywhere, the joint venture of T-Mobile UK and Orange in the United Kingdom is reported to have decided not to participate in the project, which was looking for another partner.
The seven partners in the project have each committed to contribute £4.5 million per year over the next four years to fund the platform, much of which will be spent on marketing.
The YouView web site carries the draft specifications and an invitation to developers to create applications for the platform, although as yet details of the technical environment are sketchy and there is no formal developer programme or software development kit available.
Meanwhile, Google TV has announced its own initiative that will launch globally in advance of YouView, based on the open Android environment.
Unlike Google TV, which aims to bring together television and the internet, YouView will not offer an open browser but will present a more televisual walled garden environment.
The question for consumers and consumer electronics companies alike will be which model will ultimately prevail. If the YouView partners aim to restrict other platforms from accessing their catch-up programming on fair, reasonable and non-discriminatory terms, the questions about competition will continue.