British Sky Broadcasting is extending its partnership with interactive television middleware company OpenTV to support the ongoing development of the Sky digital television platform. The companies will work on a proof of concept that could lead to the deployment of the latest OpenTV Core3 software on some Sky set-top boxes. The announcement comes as the Kudelski Group steps up its attempts to take full control of the company, arguing that OpenTV faces strategic challenges as a standalone business in view of pressures from more open solutions.
Sky licences technology from OpenTV for use in all its set-top boxes, along with technology from NDS. OpenTV claims a portfolio of over 700 patents relating to interactive television services and has been a technology provider to Sky since the launch of its digital television platform in 1998.
"OpenTV and Sky have built a strong relationship over the last ten years," said Ben Bennett, the chief executive officer of OpenTV. "We are pleased to have the opportunity to enhance our relationship by combining IP licensing with technology provision. Sky continues to be at the forefront of digital TV innovation, and we are pleased to continue to fully support this important customer."
"This new agreement with OpenTV underpins our strategy of continuous product innovation," said Roger Lambert, director of customer technology at Sky. "OpenTV continues to be one of our key partners and we look forward to exploring how we might develop our relationship further."
The value and duration of the agreement was not disclosed. Sky remains reliant on OpenTV for certain features of its digital television platform, although NDS is responsible for much of the middleware supporting the Sky+ digital video recorder.
OpenTV is developing a proof of concept integration of its latest Core3 middleware which it says simplifies the integration and deployment of everything from complex consumer user interfaces to interactive services and application widgets.
Announced at the IBC trade show in September, OpenTV Core3 claims to be more open, supporting HTML, JavaScript and Adobe Flash. The new middleware is expected to be available to customers from mid-2010.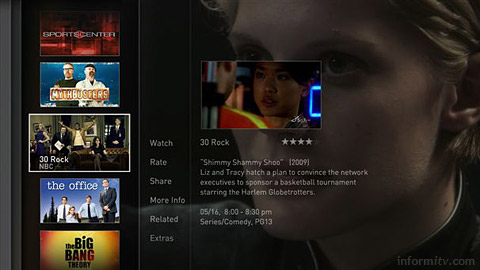 OpenTV, which has for many years been anything but open, is now also providing developers with free access to a software development suite, including an integrated development environment, virtual set-top box and application programming interface.
OpenTV is also backing the HbbTV hybrid broadcast broadband television standard that is currently favoured by a number of European public broadcasters.
The Kudelski Group, which now has majority control of OpenTV, is making a bid to take full ownership of the company. The Swiss group, that also includes content security company Nagravision, argues that the ability of OpenTV to "create shareholder value as a standalone public company is at serious risk due to the rapidly changing competitive landscape". It says revenues within the top twenty customer base are declining.
In a presentation to existing shareholders in the public company, the Kudelski Group suggests that OpenTV faces strategic challenges and that its "current technology platform does not address emerging customer needs". It argues that since gaining majority control of the company, tight expense management has brought OpenTV to profitability but its share price has declined.
Kudelski Group cites "new and strong competition from open-source and open-standard middleware solutions putting significant pressure on prices for new deployments". It suggests that MHP and Tru2Way, together with pervasive internet protocol and HTML are providing "a low-cost, industry-standard method for interfacing with set-top boxes and presenting data to consumers". It also points to increased sales of retail set-top boxes and the rise of televisions with integrated receivers and low cost MHEG middleware.
Significant investment in technology development will be required to secure its current customers, argues Kudelski, recommending that up to $150 million may be needed over the next three years.
Given that the Kudelski Group appears so pessimistic about the prospects of OpenTV as an independent public concern, it is unusually keen to take full control of the company at what is a significant premium over its current low market valuation.