Sky and Microsoft are joining forces to deliver live television and video on demand to Xbox game consoles. It is another example of the convergence of broadband and broadcast delivering interactive television beyond constraints of the traditional set-top box. Football fans will be able to share their experience with other Xbox Live members subscribed to Sky services.
Microsoft is positioning its games console a general entertainment hub in competition with the rival Sony PlayStation. A major marketing campaign will begin in October, in the run up to Christmas, focussing on the Xbox 360 as a way to access live television, music and movies on demand. Users will also be able to access social networking services, such as Facebook and Twitter.
The Sky Player service from British Sky Broadcasting will be accessible to Xbox Live Gold members, with premium programming available to Sky subscribers according to their sports and movie packages.
The live and on-demand programming is delivered using the same platform as the online Sky Player service, developed by ioko.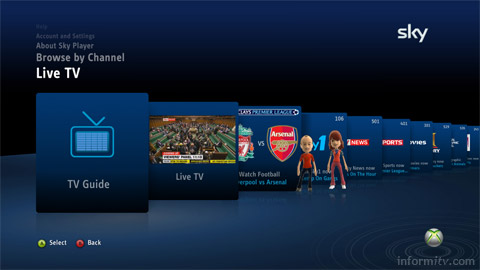 There will be up to 20 live television channels available, with hundreds of movies, sports, entertainment and documentary programmes available on demand. It provides an easy way of viewing Sky Player programming, previously available on the personal computer, on the television screen, allowing users to enjoy television in a second room without the need for an additional set-top box. It will also be possible to get Sky channels without a satellite dish or set-top box, on a separate monthly subscription.
The Xbox environment features smoothly animating menus enabled by the powerful graphics capabilities of the games console.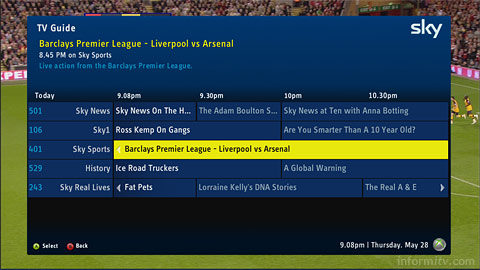 There is also a conventional grid based electronic programme guide covering the available channels.
Among the interactive features will be the ability to chat in text and voice in real time with other invited Xbox Live members, represented by on screen avatars in a so-called party mode. Programming can also be viewed full-screen, while continuing to hear comments from friends.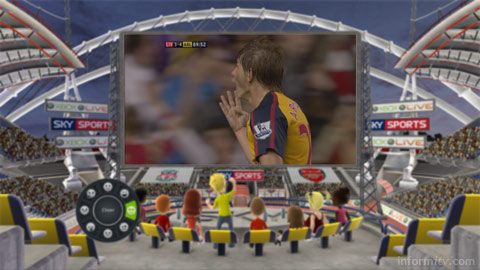 Users will also be able to access more traditional interactive information services, such as being able to check results and league tables.
"We'll be working with Sky to bring all sorts of interactive services over as part of this experience," said Jerry Johnson, product manager for Xbox Live at Microsoft. "A lot of the interactive features people just expect that they either get through the enriched red button experience on the current Sky service or from the web."
"Sky has always done things in broadcast rather than through a broadband connection, so the opportunity is very interesting," said Adrian Pilkington of Sky. "The interactive team at Sky Sports has a track record of innovative content through the red button and the prospect of a more powerful interactive platform will bring a huge opportunity."
These are the sort of interactive features that BT, which has attempted to set itself up in opposition to Sky, has been unable to deliver on its hybrid broadband and broadcast platform, powered by Microsoft Mediaroom.
For those that still want to watch television at the highest quality in high definition, the Sky direct to home satellite service will remain the best option for some time to come. Sky is also expected to bring video-on-demand services to its latest set-top boxes in the near future, combining broadcast and broadband delivered services with local storage.
Meanwhile, the combination of Sky Player and Xbox is finally delivering to the mass market some of the innovative features, with a level of fit and finish, that have long been forecast for interactive television.