ZillionTV is the latest attempt to revolutionise the television experience with a box that receives programmes streamed over the internet. The Silicon Valley startup aims to offer free programming funded by targeted advertising. Furthermore, it promises a novel personalised viewer user interface they call a VUI, using a motion sensing remote control. Currently in limited field trials, the company plans to roll out the service across the United States later this year.
"ZillionTV is building a new television ecosystem grounded in partnerships," said chief executive Mitchell Berman. He was previous responsible for marketing at video on demand vendor C-Cor, which was acquired by Arris. Before that he was with OpenTV in the early days of interactive television.
ZillionTV says it has deals with leading studios: Disney, Fox, Universal, Sony and Warner. The box, called a ZBar, will be available only through partner broadband service providers, subject to an initial activation fee, reported to be around $50.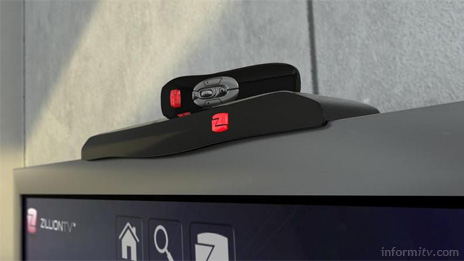 The service will be delivered over a broadband connection with a minimum speed of 2.7Mbps. The streams themselves are delivered at 1.5MBps. There is no storage in the slim and silent device. All programming is streamed directly. It is currently standard definition, with high-definition in the pipeline, although it can output at resolutions of up to 1080p with an HDMI cable. It is designed to work as a standalone service to complement, rather than replace, existing television channels. In time, the device could be built directly into network enabled displays.
Viewers will be able to choose whether to watch programming for free, supported by targeted advertising based on their personal preferences, rent to watch over a limited period, or buy to view any time. At this stage the range and depth of the catalogue, and the proportion of programming that will be available free to view is not clear.
The innovative user interface is based on technology licensed from Hillcrest Labs, which we have previously featured on informitv. It will use their point and click motion sensing remote control and three dimensional on screen user interface. This will allow viewers to browse by genre, actor and other categories, and will provide personalised recommendations.
There are plans for interactive and transactional services, including the ability to purchase products. There will also be a loyalty programming, rewarding viewers for watching particular programmes and interacting with advertising from categories they have selected.
Every studio or network, even individual shows, can retain their own identity within the user interface. Programming providers can tailor their offering by geography, demographics or pyschgraphics, and gain real-time feedback on actual viewing patterns.
Credit card company Visa is a partner and investor in the start-up company. The main programming partners have all taken an equity stake in the venture.
In short, ZillionTV is attempting to synthesise many ideas that have previously surfaced in other products and services. The concept of a box that can provide such additional programming is nothing new. A number of similar products have previously launched with mixed results.
ZillionTV may have an advantage in offering the device for a nominal activation fee rather than requiring consumers to invest in yet another box. It appears that it will be dependent on partnerships with broadband service providers to deliver the streaming service.
For many homes in America these will be cable companies, which presents an intrinsic conflict, or telecommunications companies offering their own video services. However, some broadband service providers may benefit from being part of the value chain rather than supporting potential competitors riding over the top of their networks.
So will Zillion be worth a billion and succeed where Microsoft, Apple, Sony and many others have so far failed to make a real impression? Possibly, by bringing together an ecosystem of participants in the value web that stands to gain or lose by the provision of programming over broadband.
The flaw with many of these propositions has been the assumption that what viewers really want is another way to watch the same programming that they can currently view by other means. As ever, a compelling programming proposition will be more important than technology in determining the success of ZillionTV.