Miro, the open-source video player project, has released its 2.0 version with a new interface and a number of improvements. Unlike some open source efforts, it has a high level of fit and finish. The product of this non-profit initiative looks a million dollars and could give a number of commercial ventures a run for their money.
Miro is the product of the non-profit Participatory Culture Foundation, based on open source software development by volunteers and released under a GPL licence. It aims to play media in various digital formats, including MPEG, QuickTime, Windows Media and Flash. It supports audio and video feeds and playlists and peer-to-peer torrent downloads.
The interface has been streamlined and now looks a little like Apple iTunes. The difference is that it is entirely open.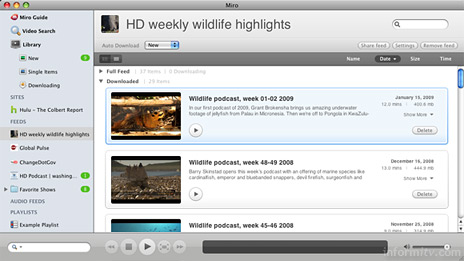 Although not perfect, with users reporting a number of bugs, it is a significant open source development.
Although apparently only 40% of Miro users are in English speaking counties there is still an emphasis on American programming. It supports the addition of streaming sites like Hulu, although currently only Windows and Mac platforms, and Hulu itself is only available within the United States.
Strangely, despite the participatory culture label, it is lacking in support for strong social features to build communities around content.
Nevertheless, it exceeds many commercial products and services that have cost millions of dollars to develop.
While platforms like Joost have moved away from an installable application to browser based services, Miro illustrates the functional benefits of an open and extensible application. It installs effortlessly, without requiring any form of user registration. It just works, mostly.
Miro also demonstrates that platforms such as the proposed and now deposed Kangaroo project are not necessary to aggregate services from multiple providers. Forget multiple download managers from various providers all competing for attention and computer resources.
All that is required are feeds exposed using simple standards such as RSS, and a high speed network connection if you want to take advantage of some of the wonderful high-definition material available.