Broadband connected televisions have been a theme this year at the Consumer Electronics Show in Las Vegas. Manufacturers are adding internet connections to their displays and broadcasters are starting to explore new opportunities for interactive television, without necessarily needing to involve cable and satellite companies. It seems that it is now all about widgets, but users may be more interested in viewing videos.
In the United States alone the consumer electronics industry is worth around $170 billion a year. The largest segment continues to be digital television displays, representing 15% of total industry revenues. Some 35 million digital televisions will be sold in America in 2009. The latest trend will be to hook them up to the internet.
Mixing its metaphor slightly, Yahoo! calls the connected television experience the Cinematic Internet. First announced in partnership with Intel last August, it envisages a new class of interactive applications called widgets, specially designed for the television viewer. Now it has partnerships with consumer electronics companies including Sony, Samsung, LG Electronics and the American upstart Vizio.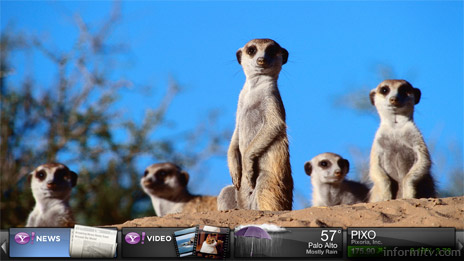 Sony announced support for widgets in its latest Bravia displays, referring to them as Bravia Internet Widgets. Samsung refers to its version as the Internet@TV Content Service. Vizio calls it Connected HDTV.
Intel is working with a number of consumer electronics companies to integrate its Media Processor chips into network enabled products. Samsung and Toshiba are among the first to use it to support widgets. Intel also demonstrated a reference design for a Blu-ray player with an integrated widget channel.
"Yahoo! has combined key attributes of the Internet, including openness, community, and personalization, with the power of television," said Patrick Barry who is responsible for connected television at Yahoo!. "By creating this revolutionary new internet experience, and combining our technology with the global distribution of major consumer electronics partners, we enable consumers to access the relevant information and content to enhance their television watching experience."
Yahoo! has also released a widget development kit to enable the creation of widgets. Based on the Konfabulator widget platform acquired by Yahoo! in 2005, it is based on industry standards such as Javascript and XML. Widgets from third party developers will apparently need to be approved by Yahoo!
Available widgets include Yahoo! applications, as well as Flickr, with others being developed by companies such as Amazon, eBay, MySpace, Netflix, the New York Times and USA Today. The Associated Press news agency has a scrolling news ticker widget.
Comcast has also shown an integration of widgets with its interactive programme guide, using Java-based Tru2way technology.
Anne Sweeney of Walt Disney ABC Television said that widgets have the potential "to make TV viewing more functional and more fun". She suggested that shows such as Good Morning America and Lost were candidates for adding interactive widgets.
Referring to the prospect of Intel inside the television, she said: "The chip may create the opportunity for content providers and consumer electronics companies to work together to help consumers connect more deeply to the content they watch. It may also open the door for us to work with our advertisers in new ways to create true, real time interactivity."
While the ability to have widgets on the television screen seems to be exciting some, research carried out for Oregan Networks, which produces its own browser software, suggests that viewers are more interested in accessing online video services.
The study covered 500 consumers in the United States and presented a number of alternative use cases for connected televisions. It found that access to video on demand without using a personal computer, playing videos across a home network, accessing sites like YouTube, or playing media from an external disk drive were ranked as most important by respondents.
These were followed by sharing the television experience using messaging services and making video or voice calls via the television. All these were considered to be more useful than downloading widgets or customising the user interface.