The American election saw the television networks competing to provide the best interactive electronic graphics to enhance their coverage. Notable among them was CNN which provided what may have been the first ever live three-dimensional two-way, showing a virtual image of a remote correspondent beamed into the election set, for no apparent reason.
"I want you to watch what we're about to do," said CNN anchor Wolf Blitzer, "because you've never seen anything like this on television."
The three-dimensional image of correspondent Jessica Yellin appeared to be teleported onto the set, to a round of applause from the studio. She was in Chicago for the victory gathering of president elect Barack Obama, but seemed to be projected like a hologram into the New York studio as the camera moved around her.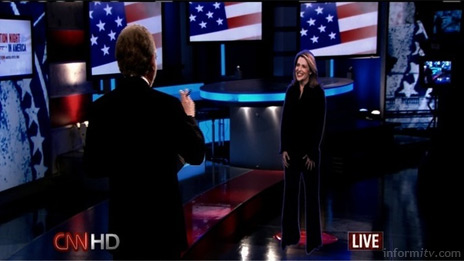 She said she felt like Princess Leia, a reference to a similar effect in the Star Wars movie. The anchor said it meant avoiding having thousands of people behind her screaming and shouting — an effect that could not presumably have been achieved by any other technique. Images of thousands of people were instead cut into the studio sequence to convey something of the atmosphere.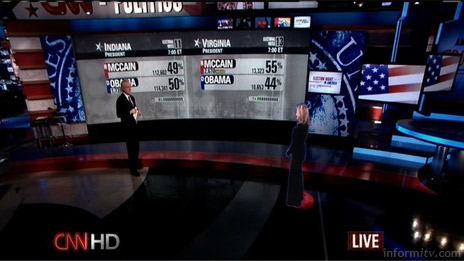 35 video cameras were equally spaced at eye level in a 220 degree arc around the remote correspondent within a green circular screen. The remote camera system, from SportVU, plugged into the Virtz virtual graphics system and received telemetry data relating to the camera angle in the studio. Images from the ring of cameras were processed to generate a matching perspective image that was relayed and keyed into the studio shot.
Viewers were told that it took three weeks to set up. It transpired that CNN has been talking about doing this for more than a decade.
A similar setup was apparently on site in Pheonix to cover the John McCain gathering but for some reason was not used.
The SportVu system was originally designed to provide three-dimensional virtual views for coverage of team sports like football.
CNN.com drew the largest daily audience in its history on election day, attracting 12.8 million visitors, serving 5.3 million live video streams and 6.8 million on-demand streams. The following day, CNN.com served 12 million on-demand streams, double its previous record.