ABC, the Australian public broadcaster, has announced its strategy to embrace the potential of digital media to expand the reach and appeal of its programming to its audiences. At its heart will be ABC Playback, an online video service similar to the BBC iPlayer in Britain. A new Continuous News Centre will also produce constantly updated news. Selected programmes will be available for purchase from an online shop.
At a meeting of staff in Sydney, Mark Scott, the managing director of ABC, said the key to securing the ABC's future as a public broadcaster in the digital age was its ability to connect with its audiences with distinctive, innovative, Australian content in the emerging media space.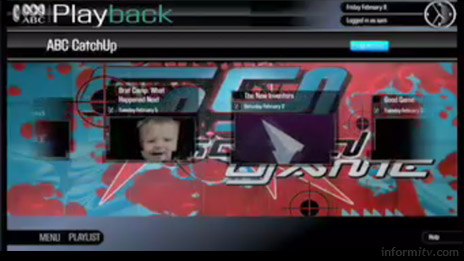 ABC Playback will launch as an online video service following a trial period. It will initially offer three channels: a catch-up service of programmes screened the previous week; natural history programmes and documentaries; and a selection of programmes available for purchase. Other channels will be added in the future.
ABC Local will launch 60 new local broadband sites reflecting local events, news, weather and sports, replacing the old local radio sites previously known as The Backyard.
ABC News will establish a new 24 hour Continuous News Centre, based in Sydney, producing multiple simultaneous and continuous streams of news across network television, radio, online and mobile services.
ABC Shop Downloads will provide access to a catalogue of DVD, CD and download products available for retail sale.
"Each of these initiatives is a significant step in creating the kind of public broadcaster that audiences expect and that Australia will require in the digital age," said the managing director of the ABC.
"Technology is changing so fast and so are audience expectations so our strategy must be to keep up with audience behaviour and technological opportunities that provide us effective means of producing innovative Australian content," he said. "It is important that we are taking the initiative, demonstrating both excellence and leadership in digital media to secure the ABC's future as a public broadcaster in the digital age."
Of the major broadcasters in Australia, the ABC has so far been the most innovative in developing digital media, while the Seven, Nine and Ten networks have confined themselves to highlight clips.
The ABC Playback service is targeted at users with an ADSL2+ broadband connection. A trial service will begin on 26 March.