Swedish company In View is promoting its ippi device as a way of connecting the television to mobile phone networks, enabling users to send and receive messages to and from mobile phones all over the world. The interactive television device will be on show at the GSMA Mobile World Congress in Barcelona.
Connected to a television by a cradle, the ippi has its own mobile phone card. Messages and digital photos can be displayed on the television screen. Users can reply directly through the built-in microphone, or send text or picture messages.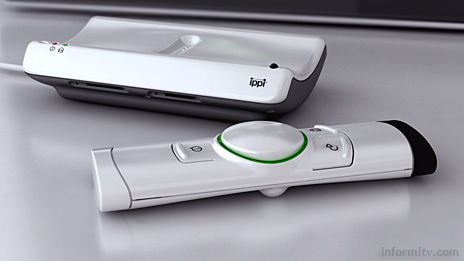 Chief executive Jon Simonsson believes the ippi has great global market potential. "There are more than five billion people in the world with a low or medium IT-maturity," he said. "ippi can work as an initial PC substitute and a first line connection, delivering content such as email to everyone. Our ambition is to make two billion TVs interactive."
The company says there are many social and practical uses for its technology. Possible applications and services include email communication, banking and commerce, subscriptions, interactive advertising, social care and electronic government.
"The diversity of our technology in combination with the fact that it works with all mobile phones is the foundation on which we are building this product," said Jon Simonsson.
In View AB was founded in 2003 out of an Ericsson Business Innovation project. The name ippi is apparently a contraction from Pheidippides, the messenger who reputedly ran from Marathon to Athens in 490BC. Unfortunately, readers may recall that that after announcing the Greek victory over Persia he reportedly died on the spot.