The winners of the fifth International Interactive TV Awards were announced at the ITV Show Europe in Barcelona. The international awards event was organised by AFDESI, the French association of interactive television industry professionals. Regulars from France and Britain were among those receiving awards, but the surprise winner was… Saudi Arabia.
The winner of the news and information category was Tafaol, a news service from Transword provided by Saudi TV.
The innovation and technology award went to Selevision, based in Saudi Arabia, for a personalisation system designed to deliver targeted advertising. The system also received the award for advertising, marketing and commerce. Selevision was also one of the main sponsors of the awards.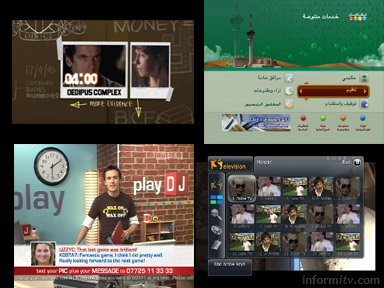 The betting and gambling category provided a special award to Cash TV from Newscreens in France and the AFDESI prize went to TV Card of France.
The games and entertainment award went to the Puff TV pre-school video-on-demand channel.
Two Way TV received the award for mobile interactive television applications for their cross-platform Play DJ service.
The BBC received an award for design and graphics for their televisual interactive television application on satellite to accompany the crime drama Waking the Dead. The Grand Prix award also went to the BBC.