TIOTI stands for Tape It Off The Internet and provides a portal to television programmes available online as well as supporting a social community for fans. The site indexes over 75,000 television programmes and more than 500,000 episodes. Following an extended trial period, TIOTI is opening up its social network to the public.
First reviewed by informitv a year ago, TIOTI remains a slickly designed site, full of fundamental web 2.0 features which have been made more functional. The social networking elements set the site apart from other internet television portals and guides, as does the absence of video.
"TIOTI.com acts as an aggregator of online TV content and a social network for user generated content about TV shows," said Paul Cleghorn, the London-based co-founder and creative director of TIOTI. "We are very excited at being able to open up www.tioti.com for general consumption at a time when major TV players are starting to make their content widely available on the Web."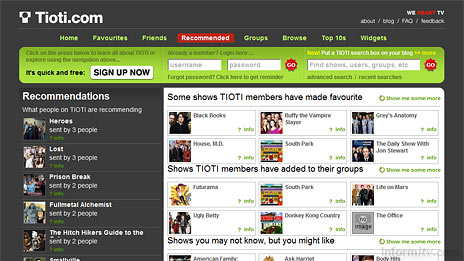 "In this internet TV landscape, TIOTI's services become more and more valuable to the general consumer who doesn't necessarily keep track of which channel, brand or company is distributing the particular show they want to watch: TIOTI provides both a platform and distribution agnostic collection of links," added co-founder and technical director Marc Colando, who is based in Seattle.
The site uses the latest web technologies to provide a responsive user experience. It includes a Wiki-style interface that allows users to add and edit programme and episode information, together with support for feeds, discussions and messaging.
Each episode entry features three types of link. Premium links include retail and rental services such as Amazon unbox and Apple iTunes. Streaming links include online services such as YouTube, Veoh, Joost and Babelgum. Other links include details of files that are available for download on the internet.
The latter is of course the most controversial. The terms of service note that "TIOTI has no control over the quality, origin or legality of the content that can be accessed" but the legal status of linking to unauthorised copyright material remains uncertain at best. Having said that, the site uses every possible opportunity to steer users to commercial services.
The real value lies in the episode guides and the social features that allow users to discover and recommend programmes. A single authoritative source for such information has real relevance for users, in a world in which media owners and distributors remain pre-occupied with offering their own portals.
The emphasis is on episodic fiction. Inevitably this is dominated by current shows from the major American studios and cult classics from the archive. Searches on other genres reveal the rather dubious results of the various tags that have been applied to programmes.
Tape It Off The Internet is a deliberate misnomer in an era of digital video recorders and downloads. TIOTI has the potential to become the internet television database.
The TIOTI team points to research on television viewing habits published by the Royal Television Society. The study, commissioned from OC&C Strategy Consultants found that those under thirty claim to watch 40% of their television programming either on demand or downloaded over the internet. The research reports that more than 10% of viewing by those under 24 is online.
There is undoubtedly a world of difference between the way younger people watch television and the viewing habits of their parents. TIOTI could be the Facebook or Flickr of the online television generation.