A high-definition flat-screen television with a built-in disk drive aims to avoid the need for a separate digital video recorder. The latest high-definition displays also exceed current broadcast standards as manufacturers are integrating more functions into television sets.
The Pause and Play sets from LG have two terrestrial television tuners and a 160 gigabyte hard-disk drive capable of recording over 40 hours of high-definition programmes or over 80 hours in standard definition.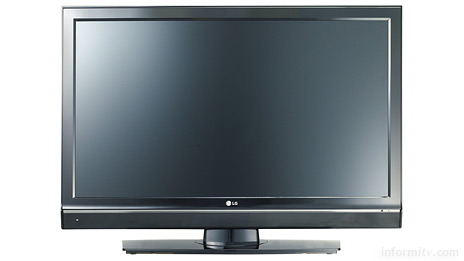 The LCD sets come in 32, 37 and 42-inch screen sizes, with plasma models in 42 and 50-inch versions. They are certified as meeting the Freeview Playback standard for digital video recorders for the free-to-air market in the United Kingdom.
Freeview Playback
"This is the first time a device other than a set-top box has won Freeview Playback certification," said Choon Lee, the head of digital television research and development at LG Electronics. "Our DVR is built-in to the TV, allowing people to pause and record TV serials without having to connect a clumsy external unit to their televisions."
There are two levels of Freeview Playback certification. To attain the first level, a digital video recorder must be able to record essential program information including audio, video and subtitles. Second level certification requires an advanced programming guide that can make intelligent decisions about when to schedule recording times.
"Our products can be pre-programmed to record serials on a repeating basis and can even automatically remove the advertisements," said Choon Lee. "When scheduled recordings overlap, the TVs search their programming guides to determine when the serial will be rebroadcast and schedule an alternate recording time."
Full HD
Also on show at the IFA consumer electronics trade fair in Berlin was an LG screen capable of displaying full resolution HD programming progressively scanned at 60 frames a second. The LG LF75 display is being launched globally. These next-generation screens can display 1920×1080/60p material which exceeds current broadcast standards.
Blu-ray discs are encoded at 1080/30p, the highest quality currently available to consumers, but LG expects 60p material to become popular in the future.
"Many experts, including our own engineers, believed that 1080/60p content would provide far superior picture quality and would eventually become standard in many countries," said Havis Heewon Kwon, head of the LCD TV Division at LG Electronics. "However, due to numerous technological obstacles, no company had been able to demonstrate the technology."
After more than a year in research, development and production, LG and NHK have succeeded in demonstrating that such displays are possible. Future full HD displays from LG will support 60p material.
With broadcasters currently limited to 1080i, and some maintaining that 720p constitutes high-definition, other media formats, including games, are likely to exploit advances in display technology to deliver higher frame rates that provide smoother motion.
Web browser
High-definition displays are also more capable of displaying web pages. After all, a 1920×1080 pixel display is better than that on many laptops. This removes some of the display limitations that have historically hindered attempts to bring the web to television.
Sony Electronics has chosen Opera to provide the browser for its internet video link module that attaches to the back of new Bravia televisions. The module links the television set directly through HDMI and USB connections and connects to broadband internet service providers directly through a network connection without the need for a personal computer.
The Bravia internet video link is currently only expected to be available in the United States.