The long-awaited BBC iPlayer will finally be available in a public test release at end of July, with a major marketing launch in the autumn. The application will allow users to download programmes over broadband for up to a week after transmission and watch them within a month. It has come under considerable criticism for currently being dependent upon the Microsoft Windows operating system.
"BBC iPlayer is a free catch-up service for UK licence fee payers," said Ashley Highfield, director of Future Media and Technology at the BBC. "Your favourite programmes from all the BBC's network TV channels will be available to download over the internet, and watch on your PC without advertising for up to a week after transmission."
Once viewers have installed the BBC iPlayer and downloaded a programme, they will have up to 30 days in which to watch before it expires.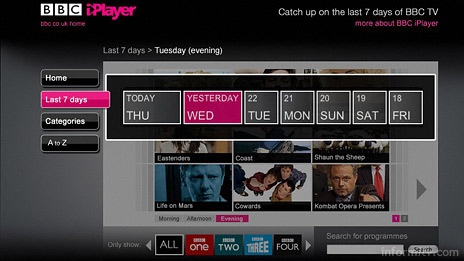 "This is a significant moment, as it heralds a new era when viewers will have the freedom to watch programmes from the BBC's linear TV channels when they want," said Jana Bennett, the director of BBC Vision, the division formerly known as BBC Television.
"It's a revolutionary service which offers audiences more value, because from now on they never have to miss out on their favourite programmes — or those that they didn't previously have the opportunity to try."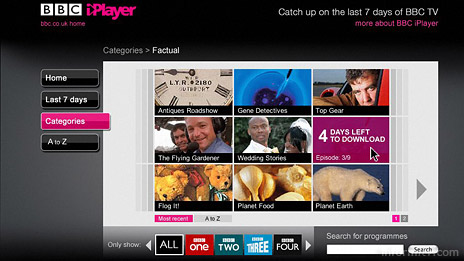 The BBC iPlayer will be accessible from the BBC web site, as well as being linked from YouTube and a number of other potential distribution partners. The BBC is in discussions with MSN, AOL, Yahoo!, MySpace, Blinkx and Bebo. Users will be able to watch promotional clips of programmes, and link back to BBC iPlayer on bbc.co.uk, enabling them to download the full programme.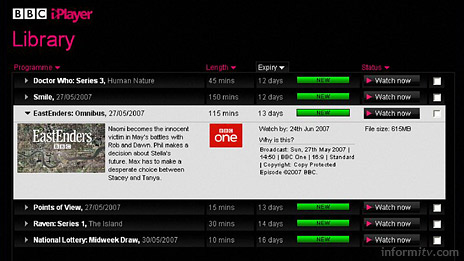 The BBC says it expects to have 500,000 registrations in six months, rising to a million in a year. That number could be a conservative estimate as the BBC web site has around 16 million users.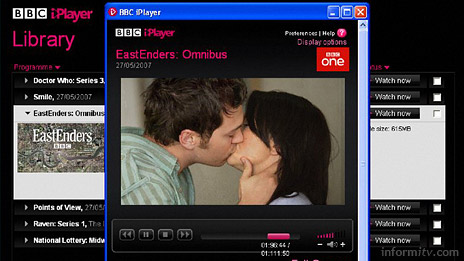 Criticism
The BBC has faced considerable criticism for its dependency on Microsoft software, specifically for digital rights management of media. It continues to attract vociferous debate on the support forums of the test service.
Last year the BBC signed a non-exclusive memorandum of understanding with Microsoft to identify areas of common interest. Bill Gates said at the time that the Microsoft vision to open up rich, new consumer experiences that allow people to enjoy digital content anytime, anywhere and on any device "fits squarely with the BBC's charter to lead the industry in delivering content that is compelling and accessible."
The corporation recently appointed a former Microsoft executive, Erik Huggers, previously responsible for promoting Windows Media, as controller of its future media and technology group which is responsible for the iPlayer.
The BBC Trust conducted a public consultation on the iPlayer which drew responses from over ten thousand individuals and organisations. An overwhelming 80% of members of the public said they thought it was very important that the catch-up service was not simply limited to users of Microsoft software.
An organisation called the Open Source Consortium, which purports to support companies providing services around open source software, is calling on the BBC Trust, Ofcom and the Office of Fair Trading to re-consider the impact of the BBC iPlayer being tied to Windows.
"This action from the BBC effectively promotes one operating system vendor at the expense of others," said their representative, Rick Timmis. "It is unacceptable that a publicly funded organisation, which surely has the resources and capability to deliver a platform agnostic digital media player, has adopted a technology that indirectly excludes access to its content to around 25% of the IT enabled public."
That figure may be disputed, since Microsoft has an overwhelming share of the market, but its dominance has attracted the attention of the European Commission, which required the software company to unbundle its web browser from its operating system, to little practical effect. While the BBC Trust may be satisfied that there is currently no practical alternative, it could face scrutiny from the regulators on grounds of competition or state subsidy.
The public service broadcaster recently had to pull its multimillion pound digital curriculum project following complaints to the European Commission. The BBC Jam project had been approved by both the former BBC board of governors and the government, subject to strict limitations, but the BBC Trust was obliged to call for the suspension of the service following industry allegations of non-compliance.
The BBC has responded by saying that it aims to make material as widely available as possible and has always taken a platform agnostic approach to its internet services. The corporation said: "It is not possible to put an exact timeframe on when BBC iPlayer will be available for Mac users. However, we are working to ensure this happens as soon as possible and the BBC Trust will be monitoring progress on a six monthly basis."
Microsoft recently announced a technology called Silverlight, which will enable playback for Windows Media with digital rights management on the Apple OS X platform.
"Developing a version for Apple Macs and Microsoft Vista is absolutely on our critical path," said Ashley Highfield. Ironically, despite the alleged allegience to Microsoft, the current beta version of BBC iPlayer is not officially compatible with the latest version of the Windows operating system.
"We're also committed to making it available on the television screen, which is why we are delighted to be working with Virgin Media towards a launch on cable later this year. We are hopeful that other TV platforms will follow soon after."
"Our vision is for BBC iPlayer to become a universal service available not just over the internet, but also on cable and other TV platforms, and eventually on mobiles and smart handheld devices," he said.
First conceived around five years ago, the BBC iPlayer has been a long time in gestation, frustrated by bureaucracy and complicated by rights issues. While the BBC has led in terms of innovating ideas, commercial rivals have already launched similar services. Meanwhile, other online services have been emerging and innovating at internet speed, providing similar features but with fewer limitations.
Tom Loosemore, the project director for web projects including the iPlayer, is now leaving the corporation to join the regulator Ofcom. He will be exploring proposals for a public service publisher to compete with the BBC. He denied that his departure was a result of frustrations resulting from the lengthy development of the iPlayer and other initiatives and described his future role as a "dream gig".
Despite the long time in development, the ambitious BBC iPlayer initiative will be missing several features. At launch there will be some support for the visually impaired and some sign language for the hard-of-hearing. Subtitles and audio description will be rolled out in the coming months.
It will initially launch without streaming on demand, to allow users to watch a programme immediately without downloading it first, and without a series stacking feature which will ultimately allow users to download episodes from selected series retrospectively. Integration with the BBC Radio Player will also follow.
The BBC iPlayer has been created and developed by the BBC Future Media and Technology division in partnership with Siemens and Red Bee Media. The download system is based on Kontiki software from VeriSign, with systems integration by ioko.
The BBC iPlayer is currently in a closed testing phase with some 15,000 users and will be available for download from the BBC web site by anyone in the United Kingdom from 27 July.
www.bbc.co.uk
www.opensourceconsortium.org
www.siemens.com
www.redbeemedia.com
www.verisign.com
www.ioko.com