Virgin Media is launching a free digital set-top box aimed at customers living outside its cabled areas in the United Kingdom. The digital terrestrial television receiver will have a branded electronic programme guide. However, there will be no personal video recorder or access to video-on-demand services over broadband.
"Launching a basic TV service into non-cable areas enables us to expand availability of our quadplay of broadband, phone, mobile and TV," said Philip Snalune, managing director of 'non-cable' services at Virgin Media. "Digital switchover is just around the corner and we can now offer consumers across the UK a simple and low-cost way of making the digital leap, even if they can't get cable services." He said the aim was to offer more advanced television services in all areas in 2008.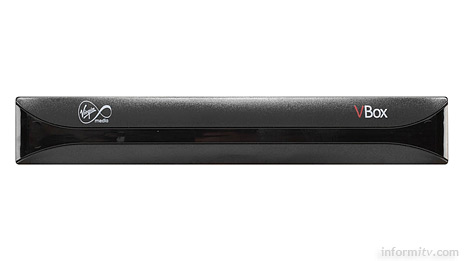 The small VBox set-top box comes with a remote extender, so the box can be hidden out of sight.
It will be free to any Virgin Media customer taking a bundle of broadband and telephony services in areas without cable, and available to non-cable customers taking only the broadband service for a one-off charge of £40. Virgin Media non-cable customers can also purchase up to five additional set-top boxes for other rooms in the home.
In cable areas, the box will be free to customers taking their telephone service from Virgin Media, for a one-off 'installation fee' of £25, although installation involves little more than plugging it into the back of a television.
The Virgin Free TV box will be produced by Tvonics, based in Wales. They currently sell a similar box, which is manufactured for them by Sony, for £50.
Effectively, Virgin Media is simply giving away or subsidising standard digital terrestrial receivers for its customers outside its cable areas. It is unclear how much of an incentive this will prove to current or prospective subscribers. The comparatively low cost of set-top boxes currently presents a minimal barrier to the adoption of Freeview services.
It is clearly a move to pre-empt Sky, which has announced plans to launch a pay-television platform on digital terrestrial television. This is subject to regulatory approval, which could be delayed by an investigation of the entire pay-television market in the UK.
The risk is that Virgin Media is effectively promoting free-to-air television as an acceptable alternative to its subscription cable television services.
It is not offering a personal video recorder, although Tvonics provides a very capable product with an excellent remote control that retails at £150. This would clearly compete with its own V+ set-top box.
At this stage, Virgin Media is not offering a hybrid device, like the V-box from BT Vision, combining broadcast television with broadband video-n-demand services. This would represent a more powerful complement to its broadband offering.
In the longer term, it seems highly likely that Virgin Media will have to offer a broadband enabled box, by which time the company will be competing in an increasingly crowded market.