Sling Media has finally launched their much anticipated Slingbox that allows users to access their home television service from anywhere in the world.
The Slingbox enables consumers to watch their own satellite, terrestrial or cable television service or personal video recorder programming, using any internet-connected Windows XP laptop or desktop personal computer.
Aiming to provide access to television anywhere, anytime, the Slingbox device allows users to placeshift their viewing, in addition to the timeshift possible with a digital video recorder.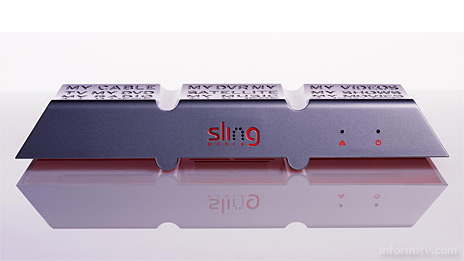 The Slingbox is a distinctively designed, brick-shaped product that is simply connected to an existing video source in the home and a home network router. The Slingbox redirects a single stream of audio and video to a personal computer running the SlingPlayer software application.
The remote player could be anywhere in the home, or, with a broadband internet connection, anywhere in the world.
"The Slingbox clearly defines a new era for television viewing," said Blake Krikorian, Sling Media co-founder and CEO. "Our goal is to enhance the TV-viewing experience by allowing people easy access to their living room television content, no matter their location: around the house or around the world."
The SlingPlayer includes a virtual remote control can control selected devices using a small infra-red emitter connected to the Slingbox. In a sense it is the ultimate remote control, allowing users to change channels, use the programme guide or programme a digital video recorder, even when thousands of miles away from home.
Inside the Slingbox is a high-performance digital signal processor from Texas Instruments that uses Microsoft's latest Windows Media technologies for live TV streaming. The connection speed is continuously monitored and the video compression is dynamically adjusted to match the available bandwidth.
While obviously limited by the speed to the end-to-end network connection, the Slingbox otherwise works exactly as advertised.
Although it is not possible to share the stream with more than one computer at a time, the player software is available as a download. This potentially allows access to anyone that has the password and identification number of the Slingbox device.
Currently only available for Windows XP, Sling Media says that software will be available for Apple computers, and selected PDAs and smart phones.
Now available through selected online stores and retail outlets for around $250, the Slingbox currently only has an analogue NTSC video connection. It claims to be compatible with digital video recorders from TiVO, Replay TV, Ultimate TV, Dish, and DIRECTV.
The legality of relaying a video signal for remote viewing, potentially to other countries, has yet to be established, but if it catches on, the ability to watch television from another country, at any time, anywhere in the world could be with us sooner than some might think.