The BBC has called time on the Ten O'Clock News Extra interactive service, after seven months on air, ending what it describes as an "experiment".
Billed as the world's first interactive television news bulletin, the service apparently failed to attract sufficient audience to justify its cost, in spite of heavy in-programme promotion on the flagship evening bulletin.
The service was developed in conjunction with independent interactive production company Two-Way TV. Delivered across satellite, terrestrial and cable television, it was the first time that the BBC had outsourced the development of a project across all three platforms and was seen as a key test of the corporation's commitment to working with the independent interactive sector.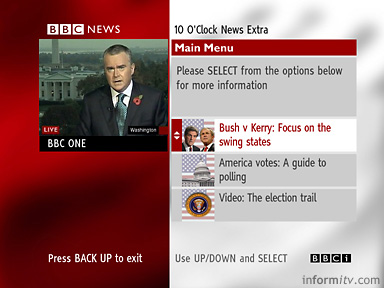 Despite its clean design, the service failed to find an audience. The BBC suggests that this could have been a result of the time taken to transfer from the live broadcast to the interactive application. Another factor could have been that it was only transmitted during the bulletin itself and for ten minutes afterwards.
When it was launched at the beginning of November 2004 to coincide with coverage of the US elections, BBC Chairman Michael Grade described it as "an experiment, a toe in the water", adding "If it works out, it will mark a real breakthrough in the provision of public service news".
It appears that the experiment did not work. "I'm determined that we continue to experiment," Richard Deverell, head of news interactive told BBC staff. "It's not a question of shying away from doing interactive news on TV. The question is: what is going to work? You have to bear in mind this is a very young medium."
Richard Deverell is moving on to fill the newly created post of chief operating officer of CBBC, reporting to Alison Sharman, the new controller responsible for children's programming, online and interactive services.
Alison Sharman said: "Richard has made a huge success of News Interactive and is regarded as one of the BBC's most respected innovators". Richard said he believed that there is huge opportunity for the BBC to take a global lead in providing content for children in the digital age.
Meanwhile, CBBC is launching eXtra, an interactive service for children, which will be available around the clock.