A channel dedicated to advertising has launched on satellite in the UK. Promoted as the channel 'For people who love Adverts', it is perfect for those people who think the adverts are often better than most programmes on the telly.

Promising continuous advertising chatter, the bright and breezy channel went to air on 12 July ahead of a full launch on 6 September.
The planned programme line-up currently includes Ad Chat featuring top television adverts, Advert Focus featuring ads in the news, Adverts For You, Ads Now! and Adverts Today with a look behind the scenes at how an advert is made.
Themed shows will focus on commercials of a certain era, such as ads from the 60's, 70's, 80's and 90's, late night adverts, sports and celebrity adverts.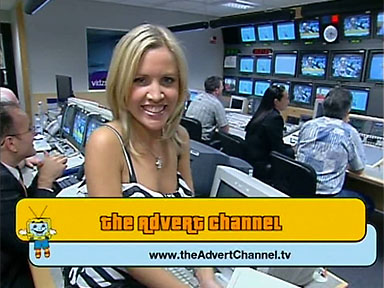 Commenting on the launch, Chelsey Baker, co-founder of The Advert Channel said: "For the Advertising industry, we hope that the channel will become a showcase for the best work and talent. For the more general audience, we believe The Advert Channel will tap into our fascination with ads. For the millions of us who prefer the ads to much of the programming, this will be TV heaven!"
There seems to be some dispute over the nature of the service, which is being branded as an entertainment channel, although it has been relegated to channel 694 in the 'specialist' band dominated by shopping channels. The Channel is apparently in negotiation with Sky to achieve a better position in the EPG in time for the official launch.
The web site helpfully points out that no subscription is required for the channel which is of course funded by advertising.
Currently most of the adverts appear to be for the cable television company ntl. However, the web site hints that they may be looking for other advertisers, with a promotional panel proclaiming: "Discover the benefits of advertising on The Advert Channel."
The Advert Channel will also feature interaction by premium rate telephone numbers, text messages and a related internet site, supporting prize draws and competitions.