The Zip TV interactive advertising channel has launched on satellite with a new campaign for Honda, initially linked from linear television commercial spots on Channel 4. Backed by eleven major advertisers, Zip TV is the first dedicated interactive advertising channel.
The first commercial to link through to Zip's virtual channel aired on Channel Four at 6.30pm on 5 July.
Last-minute contractual issues prevented an initial launch across multiple channels, which remains a key element of the Zip proposition.
The interactive ad for Honda features an eight-minute long video produced in association with BBC Broadcast.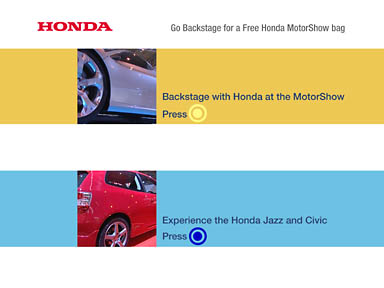 The specially shot sequence includes interviews with Honda employees, backstage MotorShow footage, an interview with racing driver Jensen Button and a look to the future with Honda's concept cars.
Donna Barradale, managing partner at Zip TV, explains: "This is not simply an extended version of the linear advert. The use of a purpose-shot, exclusive vignette differentiates Honda from its competitors, offering more than the usual test drive and delivering personal insight into Honda that educates and informs a broad audience of TV viewers".
The video is divided into chapters to allow viewers to enter the video loop at multiple entry points.
The interactive campaign rewards the viewer for their time with an opportunity to claim a free Honda bag. It also provides a mechanism for Zip to collect user data and provide some metrics on the impact of the advert.
Users are returned to the scheduled programme when exiting the application.
To date, most interactive adverts have run as the last spot in a break, to avoid taking the viewer away from other commercials, with the result that they intrude instead into the subsequent programme. This is not a particular requirement of Channel Four, and it may be that the first spot in the break is the most effective position for an interactive advert, given that interactivity carries a price premium and not all viewers will be expected to interact.
Among broadcasters and sales houses there is still an element of learning about how the business models may change. As Donna Barradale says, "it's got to be a win-win for all concerned, but the rewards for brands are potentially very high".
Zip has been implicitly critical of the standard of other interactive adverts, many of which employ templated designs for basic impulse response direct marketing. "It's not just about a thirty second linear spot and it's not just about data," adds Barradale. "Interactive television offers the opportunity to communicate much more information and bring viewers closer to brands."
Filling in a form to claim a free bag may not seem to some much like "pushing the creative boundaries," but as Barradale points out "these are first steps and as the medium evolves over time more creative ideas will come to the fore."
The Zip channel will initially launch as a virtual channel available to Sky viewers only through triggers from commercials, although it may be available directly through the EPG in the future.
Simon Thompson, Head of Marketing at Honda, believes that the Zip TV channel will deliver new and more compelling advertising models and push the creative boundaries: "Our partnership with Zip TV is our first step in exploiting the creative potential of interactive TV and we will use these results to hone and refine our future campaigns on the channel".
Zip TV will collect data from campaigns to be analysed. Barradale explains: "There will be a lot of shared learning about how viewers use the medium. What makes this so exciting is that we will be able to collate information from viewers that press the red button. The subsequent data is collated in one place and pooled: allowing us to benchmark, analyse in detail, and provide qualitative and quantitative feedback that advertisers have never before received. For the first time, TV advertising will be truly accountable".
Other members of the Zip Consortium are expected to follow with further campaigns later this year. They include Orange, BT, Gillette, P&G, the COI, Unilever, Masterfoods, Camelot, Honda and Reckitt Benckiser.